She was "sea bit" and had to start sailing now!
Janine Georgette didn't fit the mold. She didn't grow up sailing. She had never taken sailing classes, and those that were available to her were prohibitively expensive. She was enamored by the thought of living on the water, but she was on the other side of 60, divorced and single in one of the most expensive cities in the U.S.
"I had no money and getting on a sailboat in New York City pretty much involves having money," begins Janine. "So, I looked for ways that I could get there, because I got sea bit. It became obsessive. And being on the internet was not enough.
"One of the places that I found a lot of community was Women Who Sail on Facebook," Janine said. "I was looking for 'how to sail' although I didn't really have the physical ability to sail. I'm not strong like I used to be. Then a person who became my mentor pretty much gave me a sailboat, which was convenient for someone who didn't have the money. What a miracle in itself."
Soon, she hatched a plan. "My dreams of sailing are in full swing, you know. I'm going to have this boat, I'm going to get it on the water, we're heading to the Bahamas after I learn to sail because that's my dream—living the good life in a beautiful place, being self-sufficient.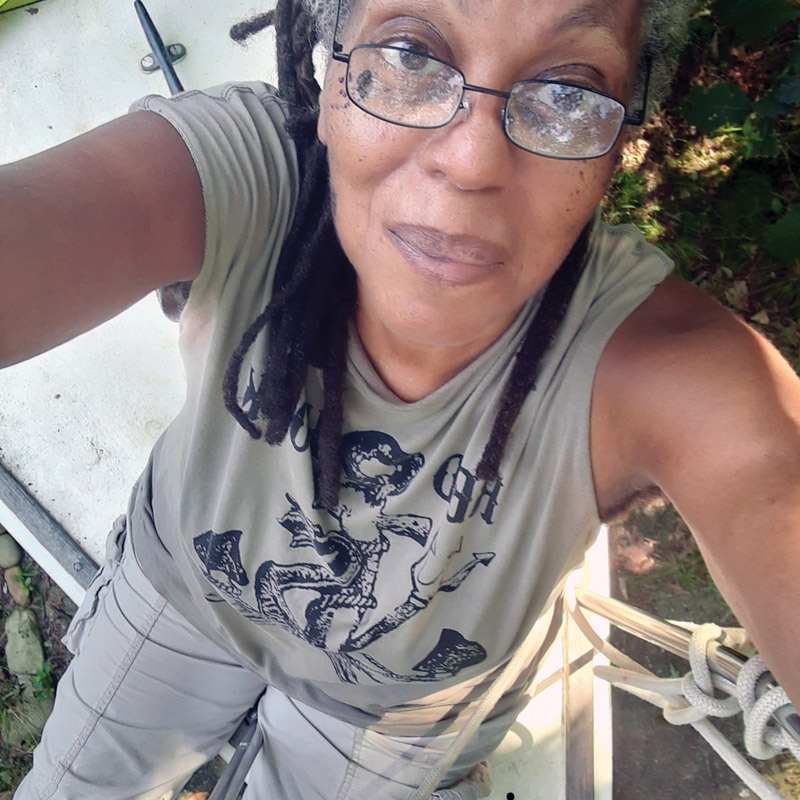 Sailing was so much more than she thought it would be
"It was so much more than I thought it was going to be—in terms of work, in terms of how you deal with the currents and the wind. It was all more than I really could cope with. I thought that I would learn how to sail, and I would end up sailing to Maine to see my mentor. And then I would be living on my little 19-foot boat." She paused, and soon added, "I barely got out of Sag Harbor."
"We got the boat ready last season, got on the water, and I couldn't start my engine," Janine continued. "It's a perfectly wonderful engine. I say that because everyone I asked to start it was able to start it—except for me. I'm talking about maybe 20 people. All summer, people are starting that motor for me. I got that junk rig to work. I mean, the junk rig is simple, but it's complex to set up. So, I was really proud of myself that I got it up. It was working."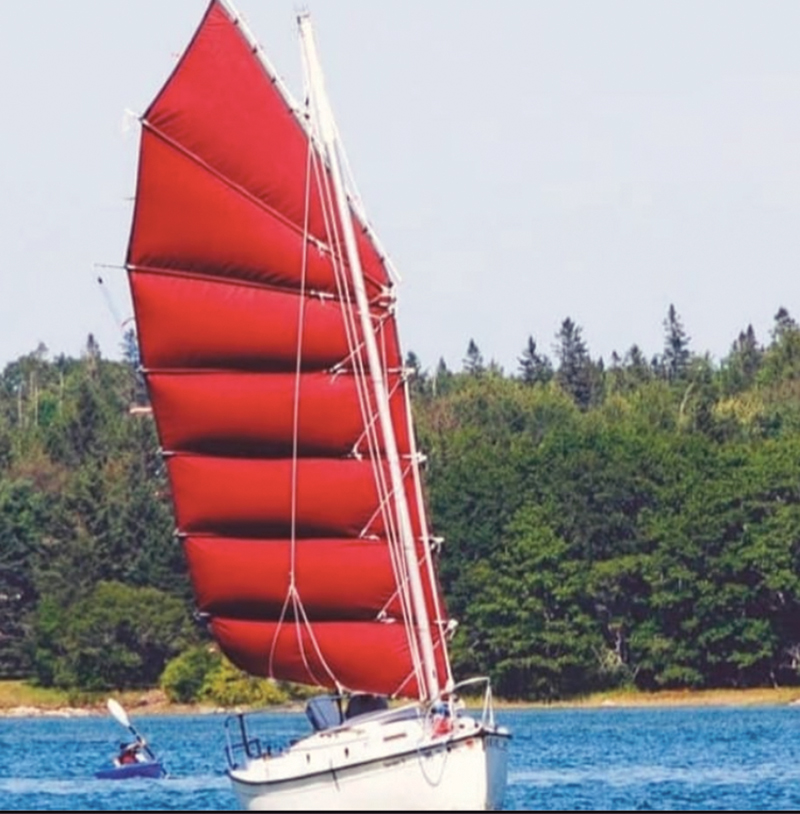 The distance between a sailing dream and reality
"I don't feel like I'm stupid, but I had my own 'what were you thinking' moment. What is it actually going to take for me to sail? I was in Sag Harbor. There were all these things that I was doing for the first time. It's not that it's difficult, but doing everything for the first time was more than exhausting; it was brutal. It was like someone was always beating me up to the point that I would call my mentor, just crying. I was in tears. I said to her, 'Everything is so hard!'
"It's that distance between the dream and reality, and I'm a very optimistic person. I believe I can do anything. If I figure it out, if I work hard enough, I can make it happen. And that is all well and good, but in reality, it's a two-edged sword. On one hand, I have this belief that I can do everything. On the other hand, there's the world where life isn't necessarily easy. And boating was not easy. Sailing—learning to sail—there was nothing easy about it. Not one thing.
"I thought I was going to pay for this whole endeavor by starting a YouTube channel," she explained. "I've got a degree in film. I know how to shoot and edit, and I'm an actor. I know all that stuff, so what's going to be so hard about that? It'll just be time consuming." Janine paused, and continued, "The camera never got out of the bag. I was so exhausted every day."
She soon got to know the towboat operator by name. She learned about the phenomenon that we have all seen in the boating world, where people come to help you with no agenda beyond just wanting to help—not to feel good, not to look good, not to show you that they are superior, but just to help you because they were there once, too. It's hard, and they know that it is hard.
"I've heard that about sailors. I've heard about that community of people giving their time and knowledge and energy and expertise without any expectation. It restored my faith in humankind," she said.
Janine told me that she asked herself, "Do I really want to do this after that long first season on the water? Here's my dream; and here's reality. Do I want to stick with it?"
"And," she said, "the answer was 'yes.' I'm still called to sea by some weird thing. I still dream of living in beautiful places and being self-sufficient. I know that it's going to take longer than I thought, and now I'm willing for that to be true. I'm aware that I dream big, and that's good, but now I break it into bits. Next season, I still am planning to go to Maine. Will I go to Maine? I don't know. The first is sailing around Long Island. If that goes well, then I'll think about Maine."
Brava, Janine!
by John Herlig
Hear John Herling's full interview with Janine Georgette on the Remarkable Stories podcast, available everywhere.
Learn more about Janine at janinegeorgette.net and on Humans of New York on Facebook.