Finally, it was the right time to sail
We always talked about learning to sail but never seemed to find the right time. We finally got into sailing together during the coronavirus pandemic. At the time, it seemed like sailing would be an opportunity to get out of the house and travel a bit despite everything going on around us. We took American Sailing Association (ASA) courses 101 and 103 at SailTime Annapolis and loved it. We immediately joined SailTime to become members on one of their boats, so we could get time on the water to develop our skills.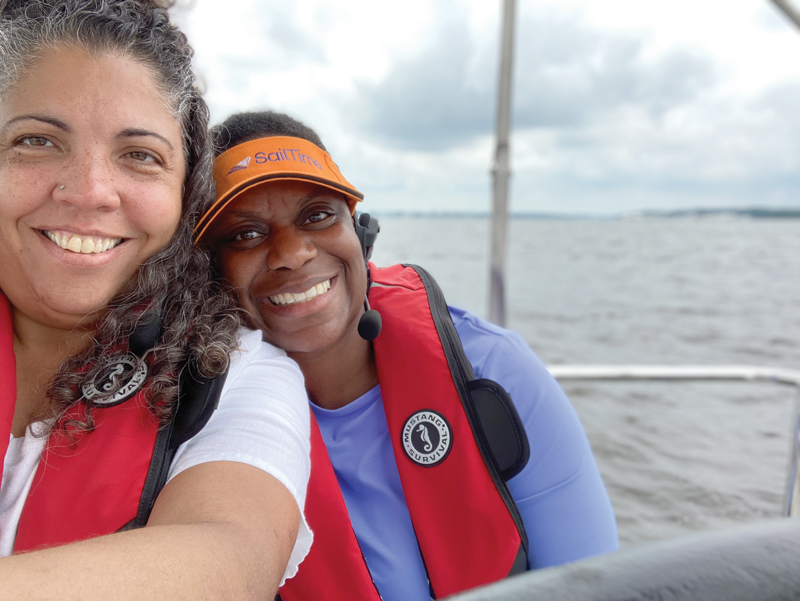 In addition to the formal ASA courses, we worked with a couple of SailTime's captains for half-day private lessons to improve various skills. We credit Captain Jeff with our docking skills. Thanks to him, Keanne is masterful at maneuvering in tight spaces and tricky docking scenarios. We also have taken a few online courses through NauticEd, and we spend a lot of time watching sailing YouTube channels to pick up some knowledge more informally.
Exploring the Bay
This is our third season sailing SailTime Annapolis's 35-foot Beneteau. We've spent these seasons exploring the Chesapeake Bay. We love day sailing out to our favorite lunch spots, Pirate's Cove (on the West River), Cantler's (off Whitehall Bay), or Libby's (Kent Island). Sometimes we grab a friend or two and anchor out somewhere nice for a dip and a picnic. We do weekend destination sails with our sailing club friends. Rock Hall and Herrington Harbour have been our favorite places to overnight with fellow club members.
What surprised you about sailing?
We didn't know how important it would be to understand how to maneuver the boat under power. We spent our first off-season studying all about sail trim, but with a 30-foot boat you also need to know how to motor safely when leaving and returning to the dock. We also didn't realize that sailing would be one of those experiences that continues to present new challenges. There's so much to consider, and you're always learning and growing.
Joining a sailing club and buying a boat.
We are hooked on sailing! We joined the Universal Sailing Club, which is a community of black sailors who sail the Chesapeake together. Erika is the club's social chair, and Keanne is the membership chair.
We recently purchased a 1993 Hunter 30T Lagniappe with a friend from our club. We keep her at Magothy Marina, and we've been doing small boat projects all summer to get her ready. In the future, we're hoping to sail a DelMarVa circumnavigation and to bareboat charter in Martha's Vineyard and the Caribbean.
What would you say to someone who is curious about learning to sail?
We'd recommend taking a few ASA courses and joining a sailing club to get some time on the water with other folks interested in learning.
Did you encounter any obstacles or barriers when you began sailing?
The biggest barriers were not knowing the Chesapeake, not knowing any other sailors, and not really having any real-life experiences sailing. The sailing club we joined has been great for us. We have so many new friends who share our interest in being on the water.