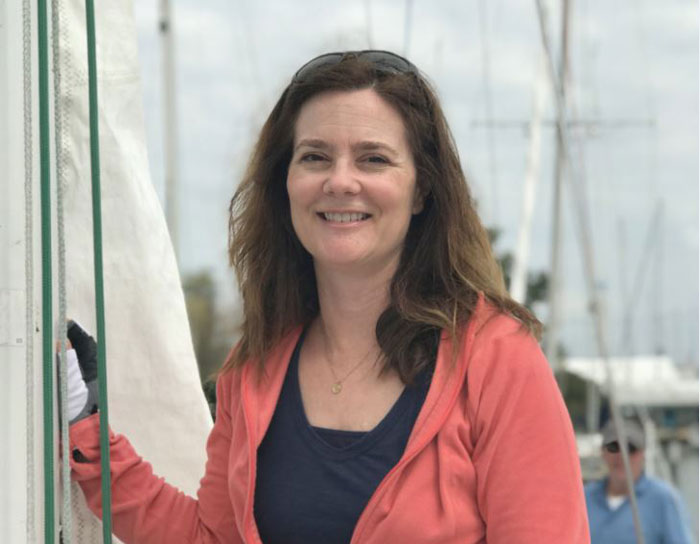 Ann Hamilton's first sailboat ride was aboard Skybird, her stepfather Towney's Alberg 30. Towney, a life-long sailor began to teach Ann, her sister, and her mom about sailing in the mid-1980s. A few years ago Skybird transferred hands, when Towney, who recently celebrated his 89th birthday, felt it was time. Ann says, "I've seen how much joy sailing has brought to Towney, and we frequently enjoyed the close, strong community of Albergers around the house in Round Bay."
Finding a boat at the SpinSheet Crew Parties
Ann continues, "I took up paddleboarding a couple of years ago, and last summer on a visit to Solomons I found SpinSheet. Though I'd been on Skybird many times, I'd never crewed in a race. I decided I really wanted to race this year. In the magazine I saw an ad for the Crew Parties and decided I'd attend the party in the early spring to find a boat for this summer. Towney joined me at the Baltimore event, and my mom, Joan, and he both came along to the Annapolis event."
Ann says, "The Crew Parties are a lot of fun and the perfect way to find a match, with a bunch of boats looking for crew and lots of crew looking for boats." Ann and Towney met SpinSheet staffer Eric Richardson at the Baltimore event. Eric was just about to begin his second season of racing and was still building a list of regular crewmembers for his Shock 35 Blinding Fury. "Eric was welcoming and kind and was looking for crew. He said his crew members were all about my age, so I'd fit right in. We liked Eric's laidback style and thought Blinding Fury would be a great boat on which to learn. So I signed up!"
The highlight of my year
"There is nothing like being on the water, and Annapolis is a beautiful place to view from that vantage point. The people involved in racing are fun to know. Eric and his crew are experienced and diverse, and competitive and hilarious. They are generous with coaching and sharing extensive knowledge. You cannot miss Blinding Fury's beautiful tie dyed spinnaker (hand crafted with Kool-Aid, by the way) and crew in matching tie dyed T-shirts that everyone made at a crew party in Eric and his wife Jen's backyard."
"Over the summer I found that I couldn't wait for the Friday night race. I loved it, and it broadened my life. Racing is fast and exciting, and I've learned to move quickly around the boat. Although it took a while to convince me the boat wouldn't heel over too far, I've learned so much about sailing from this crew. The bonus I've found is how peaceful sailing can be. When you are motoring out on the water and the engine shuts off, then everything else falls away. It's like that wonderful quiet when a house loses power during a storm."
Beyond weekly racing
"One Friday evening after talking a bit, Eric and I found that our dads were about the same age, both loved to sail, and had raised families in Severna Park, MD. So we decided to get our parents together for a weekend afternoon on Blinding Fury. We had a great time, and our parents found they had crossed paths years ago through the sailing community.
"Eric also planned days to practice where he and another crewmember, Beth Crabtree, taught me to steer and use telltales. As a team we placed third for the season in Eastport Yacht Club's Friday night races. It's been fun to meet new people and also unexpectedly reconnect in Eastport with a handful of former classmates from Annapolis involved in the boating community."
"Crewing this summer was the highlight of my year," says Ann, whose future sailing plans are to sail longer races and improve her physical strength and technical knowledge.

To find out about the SpinSheet Crew Party click here.