A desire to go sailing on her own
Christine Gardella, who grew up in St. Louis, MO, always loved the water. She was a "watery" kid and had fun powerboating, windsurfing, and sailing a Sunfish. But it wasn't until about four years ago that she really got into sailing.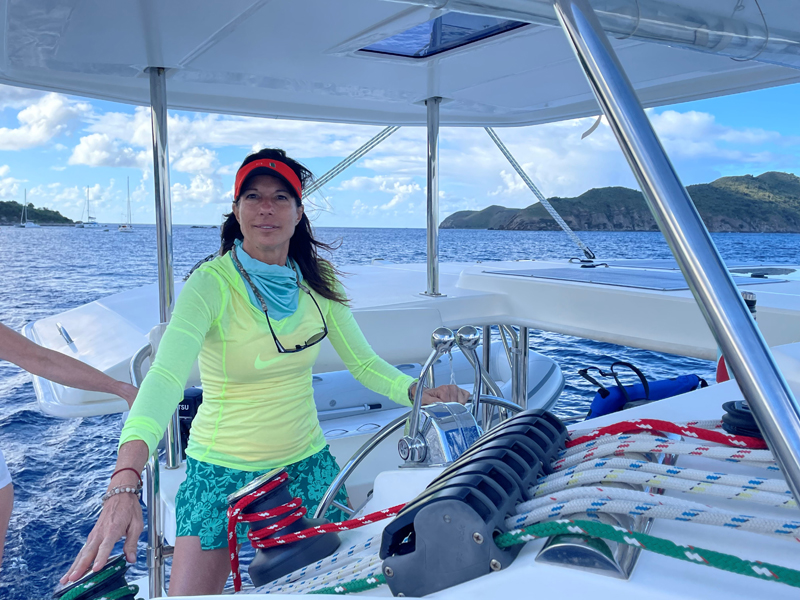 "My best friend's boyfriend owned a boat in Annapolis, and they invited me out sailing. I just loved it," she says. When the couple invited Christine to sail with them on a nine-day trip that included a leg from Miami to the Florida Keys and back, she said, "Yes!"
"When I asked my friend's boyfriend about his sailing background, I was surprised to learn that he was relatively new to sailing. I thought, 'Wow. You can do this without a lifetime of experience?' I decided that I wanted to learn to handle and captain a boat, so that I could have the freedom of sailing on my own. Although I was a little intimidated while taking classes, I really hit my groove and got comfortable when I took the skills from class and practiced with my friends."
Loving the sailing lifestyle
After taking several courses at Annapolis Sailing School, Christine gained access to a beautiful cruising boat by leasing time on a privately owned 39.5-foot Jeanneau that is docked in Annapolis. With her sailing credentials earned in sailing school, Christine was able to qualify as a captain and take the boat out on her own.
"I love the lifestyle. I live in a Washington, DC suburb and have a busy career in the healthcare industry. Coming to Annapolis and getting on the boat, especially overnight—that is heaven. It's so relaxing, even if just I spend the night in the slip!"
Often Christine sails north out of Annapolis and under the Bay Bridge. A memorable trip last season was sailing with two friends to Rock Hall and on to Baltimore. Although she often sails with others, she's not afraid to sail to singlehand the boat, and she's even done a couple of overnights by herself.

Advice for someone thinking about learning to sail
"My advice is to go for it!" says Christine. "Follow your imagination and take some sailing classes. I'd recommend first getting some casual sailing experience, with friends if possible. That will give you some context when you go to sailing school.
"You don't have to own a boat. The leasing plan I have makes sailing very affordable with no headaches. I am a single woman with a busy job, so this setup works well for me, especially because I don't have to be fully responsible for maintaining the boat or its systems."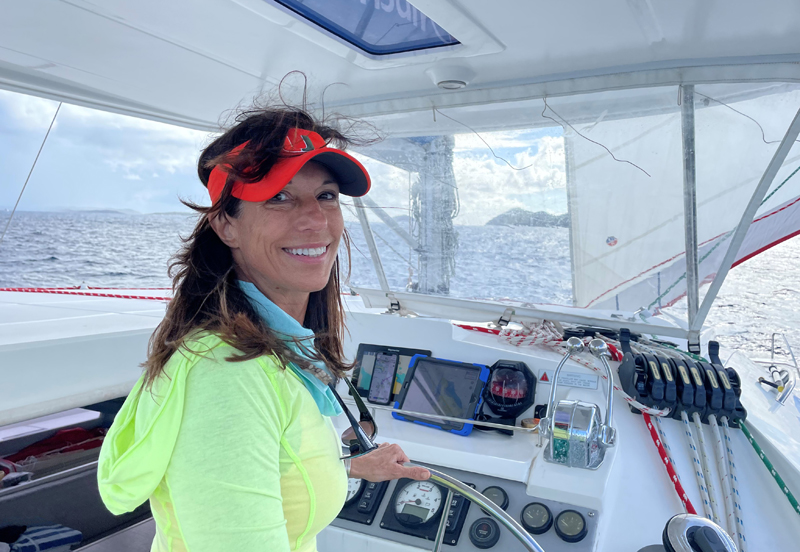 Expanding her sailing skill set
"This season I plan to take a navigation course to increase my confidence so that I can expand my adventures to more places around the Bay, especially ports farther south. However, one of my goals is to sail further north to Cape May, dip my toe into the Atlantic, and sail back.
As the March 2022 issue went to print, Christine was preparing to depart for a sailing adventure in the Caribbean. She explains, "Last fall at the U.S. Sailboat Show in Annapolis I looked into a charter vacation. I'll be captaining a catamaran through SunSail, and my sister, best friend, and cousin are coming too. It's a seven-day trip and my first time to captain a catamaran. I can't wait!"