When this retiree marked a milestone birthday by learning to sail, he found that volunteering was a great way to gain time on the water. In 2019 Mark Kahles became a first-time SpinSheet Centurion, logging 138 days on the water!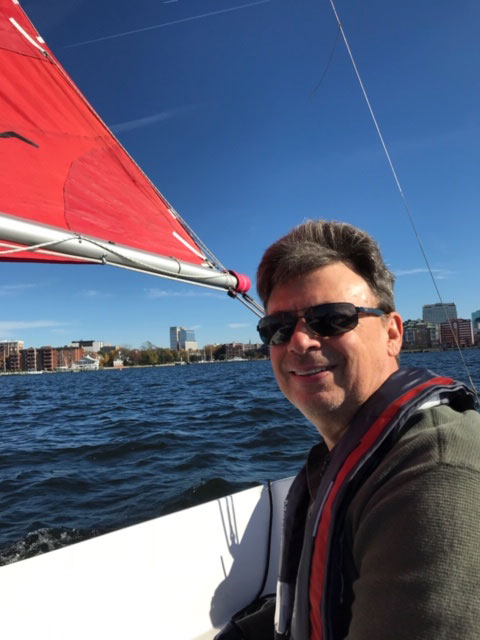 Tell us about how you got into sailing
In 2017, my wife Ava and I moved from Cincinnati, OH, to Norfolk, VA. We had retired and wanted to be close to the water. Right after we moved, while we were walking on the beach, we saw sailboats racing from Broad Bay Sailing Association. Ava and I had both enjoyed some sailing with friends prior to moving, and since I was turning 60 that year, I told her that I wanted to learn to sail for my birthday. I thought it would be great for us to sail the Chesapeake Bay in our retirement.
I researched sailing schools around Norfolk and found Sail Nauticus. I signed up for its U.S. Sailing Basic Keelboat course and have been sailing regularly ever since. In addition to the basic keelboat course, I completed ASA's Keelboat 101 course, ASA 103 (Basic Coastal Cruising), ASA 104 (Bareboat Cruising), and all of the sailing workshops offered by Sail Nauticus. During the summer, I enjoy Sail Nauticus's weekly Social Sails, which are a great way to meet people who enjoy being on the water and an opportunity to practice basic sailing skills on a regular basis.
I try to sail a couple of times a week, most often as a mentor to new sailors or folks working to pass Sail Nauticus's captain's tests. I am also a sailing instructor at the Sail Nauticus Youth Sailing Academy, which provides Norfolk school students the opportunity to learn to sail and develop leadership skills and confidence. Ava and I get additional time on the water by volunteering on Schooner Virginia, a 122-foot replica of the last sail-powered pilot training vessel built for the Virginia Pilots Association in 1917. I work as a deckhand, and Ava cooks onboard during Bay voyages.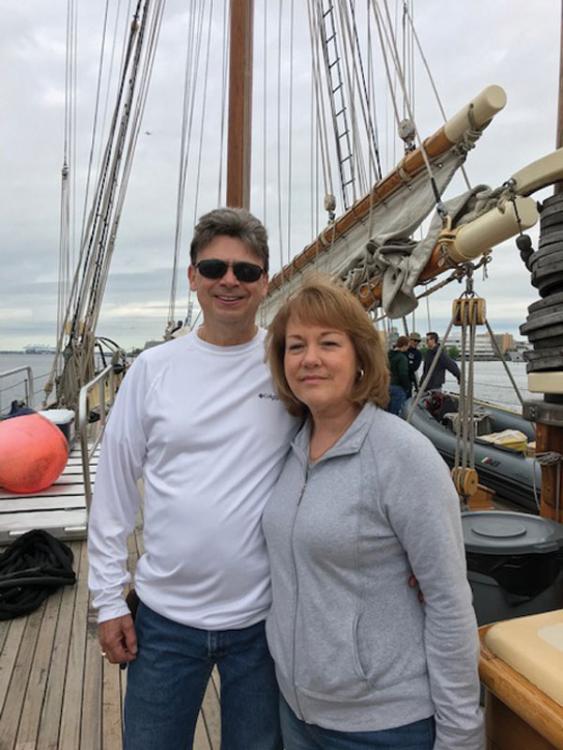 Buying a sailboat to explore the Bay
In February 2019, Ava and I took the plunge and bought a 29-foot cutter-rigged Island Packet and spent three weeks bringing it up the Intracoastal Waterway from Hilton Head Island to Norfolk. Her name is Neicy (NEE-see), and we keep her at Bay Point Marina in Norfolk. We can walk from our house to our boat in about 10 minutes! We spent the summer doing various projects on the boat and enjoying a lot of day sailing. For the next few years we plan to do more cruising around the Chesapeake, while we build our sailing and seamanship skills. We'll start by cruising to places that are within a day's sail and then work our way north to visit places in the Middle and Northern Bay. We talk about someday sailing to New York to visit our granddaughter, or sailing south to the Caribbean one winter.
If someone were interested in learning to sail, what would you tell them?
I would tell them to just do it! Find a sailing school with a good reputation and take a basic keelboat course from either U.S. Sailing or ASA. Spend as much time on the water as possible. Seek out local sailing clubs and sign up to crew during races—that's a great way to learn your way around a boat and to develop sailing skills. Each time I sail, I learn something new, either about myself, about our boat, or about sailing in general. Lastly, I'd tell them to check out all the sailing resources that are available on YouTube. I have learned so much about sail trim, seamanship, navigation, tying knots, boat ownership, and a host of other topics just from watching videos.
Gaining time on the water while giving back
Perhaps the biggest obstacle I faced when I began sailing was simply figuring out how to get time on the water. My solution was to take courses and workshops, attend social events at Sail Nauticus, and sign up to crew during races. Without time on the water, you really can't develop the skills and confidence you need to sail on your own. It's the biggest reason why I volunteer as a sailing mentor and teach at the Sail Nauticus Academy. It's kind of my way of giving back to a community that has given so much to me.