Meet Our New Sailor of the Month: Gabi Van Wie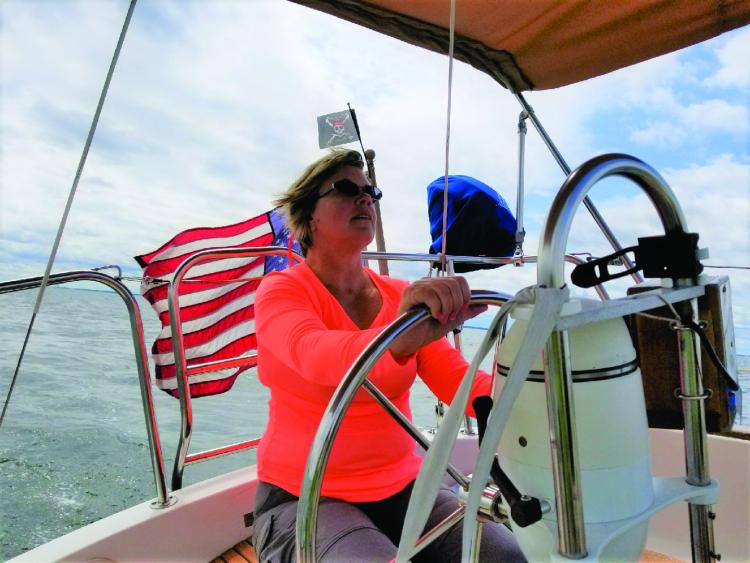 Holiday weekend on the Bay leads to a new passion
I moved from Germany to Wilmington, DE, in 2002 and for 15 years my only connection with the Chesapeake Bay was driving over it on the way to Washington, DC. It never crossed my mind that one day I would fall in love with sailing, but three years ago a friend invited me for a cruise on the Bay over the fourth of July weekend. My only fear was that I would become seasick and ruin the trip. Fortunately, the weather gods were with me, and I had a wonderful time. It actually felt like a vacation, so I began looking for more sailing opportunities. Now, just about five years before I plan to retire, I regularly combine my love of sailing with my interest in travel and photography.
Gaining experience
I found Singles on Sailboats (SOS) via Meet Up and attended a happy hour near my home. At the meeting I talked to experienced sailors, had a great time, and promised to sign up for the SOS club in January. I joined the club's spring training program and was incredibly impressed with the classes and how well the club was organized. Since I was eager to learn quickly and didn't want to rely solely on one source, I also enrolled in an American Sailing Association basic sailing class.
I took ASA 101 in early May 2017 aboard a Catalina 24. That season I couldn't get enough. I sailed aboard a 28-foot Ranger, a 32-foot Beneteau, a 29-foot Bristol, a 32-foot Ericson, and a 27-foot Com-Pac. In addition to acquiring sailing skills, I also learned about vessel maintenance, putting a boat up on the hard, and all the elbow grease needed before a boat is launched in the spring.
Last year I did two bareboat cruises: a week of fine sailing from Newport to Martha's Vineyard to Block Island and Nantucket and back to Newport aboard a 42-foot Beneteau; and another bareboat cruise with SOS on Lake Champlain aboard a 40-foot Sun Odyssey.
This year I was lucky to be invited by Lora Donia (one of my favorite SOS friends and a Start Sailing Now alumna) to help on the first leg of a delivery aboard a 35-foot Island Packet catamaran going from Fort Myers, FL, to Summit Marina in Delaware. I learned that deliveries are all about time and not about the beauty of sailing or the picturesque surroundings. I will never forget my first time on night watch, securely tethered in a harness, on the open waters of the Atlantic Ocean.
I also spent two days sailing on the Pacific Ocean earlier this year. I wanted to visit the area (and also spend a few days in Mexico), so I took ASA 103/104 in San Diego, CA, and earned an international proficiency certification. Closer to home, I've enrolled in the SOS First Mate program, and on weekends I've been sailing on a 38-foot Contessa, where I've learned to solve issues with a furling main sail. I'm also back sailing with my friends on the Com-Pac this season.
What advice would you give to someone interested in sailing?
Just do it! There is no age limit in sailing, and there is great camaraderie in the sailing and boating community. Within SOS, you come for the sail and stay for the friendships! All the skippers and crew I have met have been helpful and caring, and happy to explain. Because I believe the organization can only thrive with member engagement, I'm currently co-chairing the SOS social committee.
A dream to sail the Mediterranean
I don't own a boat, but there is a little seedling in me, carefully nourished by weekly sailing, that one day I will buy a boat upon my return to Europe and enjoy the Mediterranean Sea under sail.