Passagemaking: "What if" can complicate a cruiser's best laid plans
Passagemaking sometimes begins with my alarm ringing, a gentle yet persistent electronic beep beep beep that I allow in my life only for early airline flights and sailing departures. Alarms are the devil's work, if there is such a thing.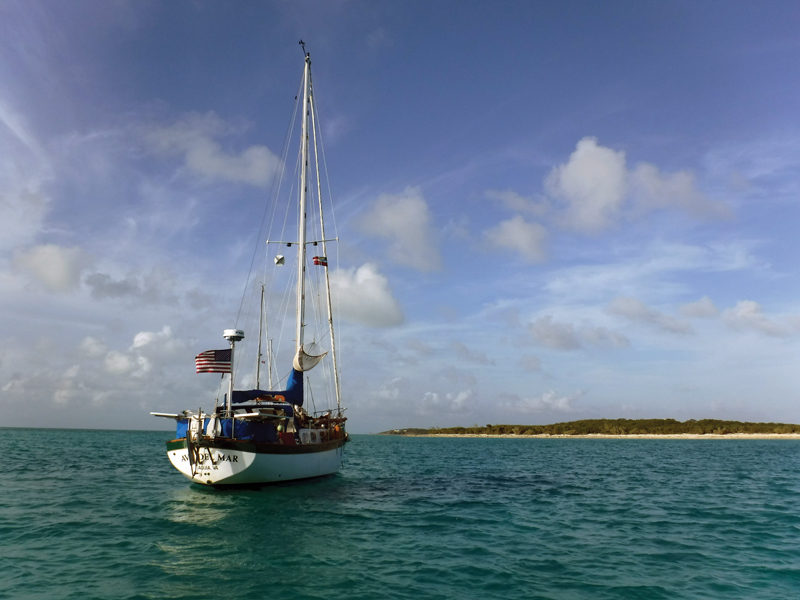 I watched the contrails of my breath curl up into the air of the v-berth from under the fleece top crust of my bed. I peeled the blankets back abruptly—there was simply no other way to do it but to do it and to do it suddenly. A string of involuntary commentary escaped from my mouth as I greeted the day.
I have not been graced with much naturally occurring insulation, and the number of layers of clothing that I adorn in cold weather is somewhat shocking. On came the base layer, the long underwear, and more layers—innumerable additional layers. Woolen socks clamped the cuffs of the underwear to my ankles. Foot warmers were added, followed by a second set of thick fleece socks.
As water went on for coffee and a pot of oatmeal simmered, I slinked down into the engine compartment for the pre-departure check: oil, coolant, transmission fluid, alternator belt tension, and a twirl of the prop shaft to make sure it felt free. Back out I emerged like a bundled-up Jack-in-the-Box puppet. The Freeman hatch latched behind me with a heavy and satisfying clunk like a submarine hatch. The sheer heft of it brought a smile to my face.
Fuel lift on. Engine panel key on. Hold the preheat button, count to 10, hit the starter. The old Kubota V1305 that I had acquired from a retired golf course lawnmower roared instantly to life. The Kubota, I could only assume, missed its Florida lawn mowing days. Sorry about that, little guy, but you've got a new role now. I was doing my best to get it back to warmer latitudes.
I was anchored in Godfrey Bay, just inside the mouth of the Piankatank River in Deltaville, VA, in the early stages of a journey to St. Martin in the Caribbean. Making day-long hops from anchorage to anchorage didn't feel like a passage because, of course, they weren't. But the passage itself couldn't begin without a beginning. Getting down and out of the Bay was a beginning of sorts. You can't start a road trip unless you back the car out of the garage.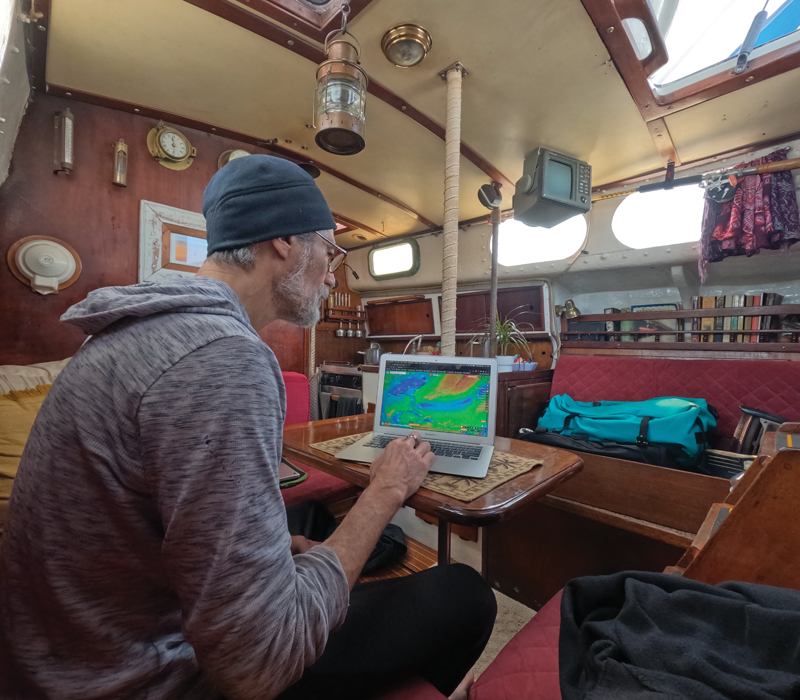 The passagemaking quicksand of information
The decisions that abound during passage planning can easily slip you into the quicksand of information overload. It had been so easy to say I am headed to St. Martin because that was in fact the goal, but every step of how rendered new layers of challenges, and each one had thousands of plausible solutions.
The basics suggested that I would scratch my way down to Norfolk in order to depart the Chesapeake and creep out into the Atlantic. In a juicy departure window that might lead to southward sailing along North Carolina and a turn towards the east at 34ºN latitude to cross the stream. Fat and juicy windows are rare, so the plan morphed into a sail to Beaufort, NC, for yet another staging. As I arrived in Norfolk and checked the weather, this part of the plan solidified.
St. Martin itself was yet another goal, the ultimate goal, scratched in the sand with a stick and a smattering of hope. I am going to St. Martin remained the theme. The myriad of realities danced about in front of my eyes like so many colored lights from a disco ball. If the weather cooperates, and if nothing untoward occurs on the trip, then St. Martin it will be. But…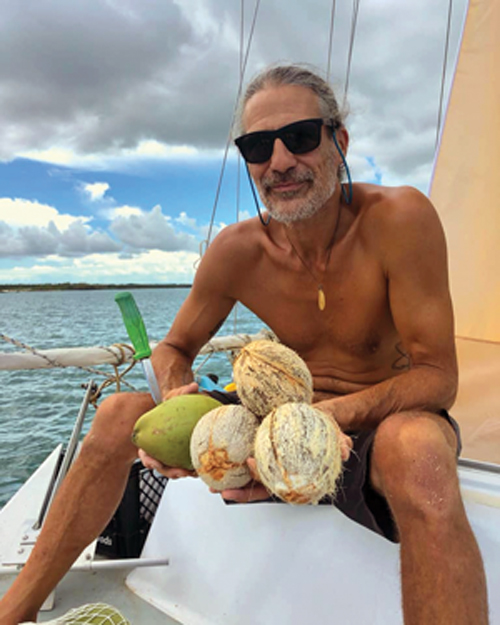 What if: arrival at an unplanned anchorage
But what if the weather doesn't cooperate? What if I can't make 62º W for my turn to the south? I watched so many friends depart on similar journeys over the past few months. Some made it where they intended, some ended up in unplanned anchorages, safe but with all their crayon marks far outside the lines. So, you scan west from the Leewards and look. Now is the time to make bailout plans, not out in the high seas with weather on you and trouble afoot.
There, just west of the Leewards, lie both the British and US Virgin Islands: Tortola, Jost Van Dyke, St. John. If I were to get pushed down to St. John I wouldn't even have to clear in. You could do worse.
West a bit more brings Culebra and Puerto Rico, and I have never been to either. Jamie Bryson—circumnavigator, Cape Horn singlehander, and previous owner of Ave del Mar—loved nothing more than he loved Culebra after his lap around the globe. If falling off means ending up in Culebra, I think I'll be able to handle the disappointment. From there I would be able to make a new plan with new information gleaned from the new people I would meet.
If I am driven even farther west than this, things get more complicated. Hispaniola could be next, with the Dominican Republic (DR) to the east and Haiti to the west. I have sailed to both but wouldn't be deeply inclined to end up there on this passage. Entering the DR comes with a decent little price tag attached, and Haiti has fallen yet again into anarchy. Nothing breaks my heart more than this. I count my experiences cruising Haiti among the most memorable of my life. But the country in general, and the north coast for sure, are just not currently viable landing options outside of a full-on emergency.
Hispaniola lies just south of the Turks and Caicos, and arriving there at all would mean passing through the Mouchoir or Turks Island passages—both doable, but hard to picture not just clearing into Turks along the way and getting on with life.
As I sit at the salon table in Ave scrolling charts it occurs to me that if 73º W is all I can reach, my old friend the Windward Passage awaits, a watery red carpet that leads me straight to Port Antonio, Jamaica: one of my favorite places in all of the Caribbean. It is not humanly possible to not have a good time in Port Antonio. How had I never seen this option before?
Oh, that's right—St. Martin is why. I am not headed to Port Antonio or to the Mouchoir Passage or Culebra or St. John. I am headed to St. Martin. The rest is just details.
by John Herlig
About the Author: John Herlig ive aboard his Rawson cutter Ave del Mar, teaches at Cruisers University, and is the host of the podcast Remarkable Stories. Find him on Instagram at @sailingave