Expect the Best; Prepare for the Unexpected
No one leaves shore expecting the worst, yet experienced sailors recognize the importance of preparing for the unexpected. Is your vessel equipped with the appropriate safety gear? Whether you're sailing nearshore, along the coast, or offshore, we take a look at the varying levels of safety essentials.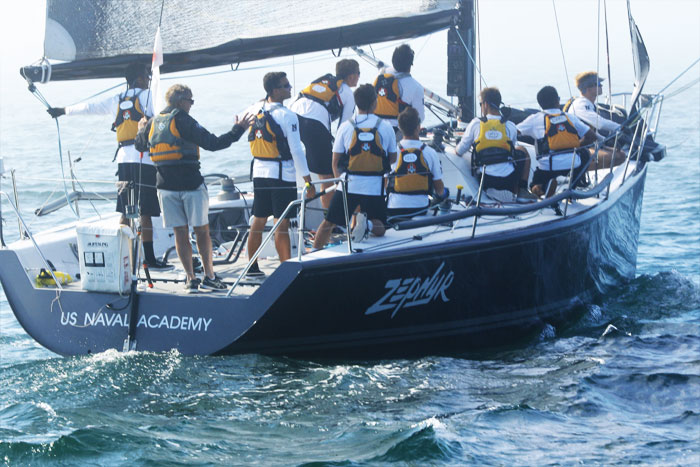 We start with some sound advice from Jonathan Wright, a safety expert with years of real world experience. As Vanderstar Chair for the U.S. Naval Academy Sailing Program, Wright is responsible for sail training issues that ensure the safety of the program's personnel and equipment. Wright has an expansive knowledge of safety equipment for sailboats, but he emphasizes that acquiring the gear is only the first step. Knowing where it's stowed and how to use it also are crucial to proper vessel preparedness.

"When you're in trouble at sea, it's not the time to get out the directions for your safety gear! Just having all the proper required equipment aboard, by purchasing it at your local chandlery, is only the beginning in making your voyage safe," says Wright. "Over the years I've heard about many onboard incidents that went south due to the lack of crew training with the safety equipment. Here at the Naval Academy we constantly practice onboard drills such as abandon ship, man overboard, and fire, and all are trained with use of the carried gear."
Where will you sail?
Ocean: Long distance races, well offshore, where rescue may be delayed
Coastal: Races not far removed from shorelines, where rescue is likely to be quickly available
Nearshore: Races primarily sailed during the day, close to shore, in relatively protected waters.
Match the gear to the voyage
How does a sailor who's expanding his horizons determine which gear is appropriate for his intended passages? Two of the most often consulted resources are the
World Sailing
(formerly ISAF)
Offshore Special Regulations
(OSRs) and
US Sailing
's
Safety Equipment Regulations
(SERs).
The SERs are generally agreed to be easier for U.S. sailors to understand. They categorize sailing voyages as ocean, coastal, and nearshore. Because they don't refer to any external documents, the SERs are relatively easy to digest and can be printed out on just a few sheets of paper. They were initially compiled to provide race organizers with specific safety equipment requirements, but they're written in language that's plain enough for most sailors to understand. Both the OSRs and SERs are appropriate for
cruisers
as well as
racers
, and either may serve as the basis of a cruising rally's safety regulations. Of note, none of these regulations replace the requirements of applicable local or national authority for boating, the Racing Rules of Sailing, the rules of class associations, or any applicable rating rules. They are supplemental to them.
Nearshore Sailing
Whether you're cruising to St. Michaels or gunkholing around the Bay, basic safety equipment is standard to any sailboat of a certain size. Most of these items are intuitive, and many are mandated by local authorities or the U.S. Coast Guard. These types of items would include, but not be limited to: lifejackets, a fire extinguisher, a sound maker, an anchor with chain and line, a first aid kit, a bilge pump, and a compass. Additional safety equipment is rather limited: a VHF radio, a throwable, a heaving line, a bucket (with a lanyard attached), and a couple of waterproof flashlights.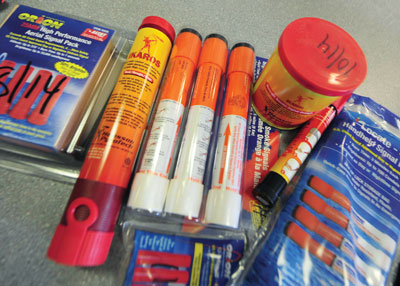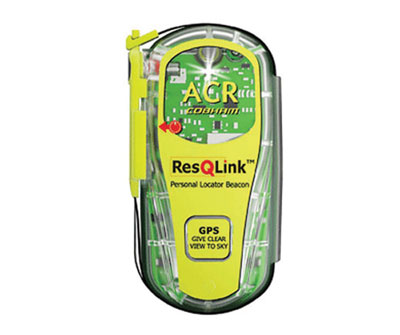 Coastal Cruising and Racing
For boat owners making the jump to coastal sailing, the leap means taking on a considerably longer list of safety gear. Coastal cruisers and racers may face large waves, big winds, or overnight passages, and while it may feel comforting to be relatively close to shore, the downside is that there a greater likelihood of collision near the coast than far out to sea.

To get a handle on the type of additional equipment you'll need to acquire, consider that the SERs address specifics for the stability index for coastal and ocean-going vessels as compared to boats for nearshore excursions. Parameters are defined for many, many items, including stanchions, life lines, the number and type of flares, emergency tiller capabilities, and the vessel's mechanical propulsion ability. Lifejackets are addressed in detail, too, requiring leg or crotch straps, whistles, lights, reflective material, compatibility to a safety harness, and the individual's or boat's name.
The SERs also provide coastal boat owners (and offshore, too) many details on the appropriate man overboard (MOB) devices and Emergency Position Indicator Radio Beacon (EPIRB), floating personal locator beacons (PLBs). Importantly, for these items to work optimally, they must be registered to the boat or wearer. Find more registration details at: sarsat.noaa.gov/beacon.html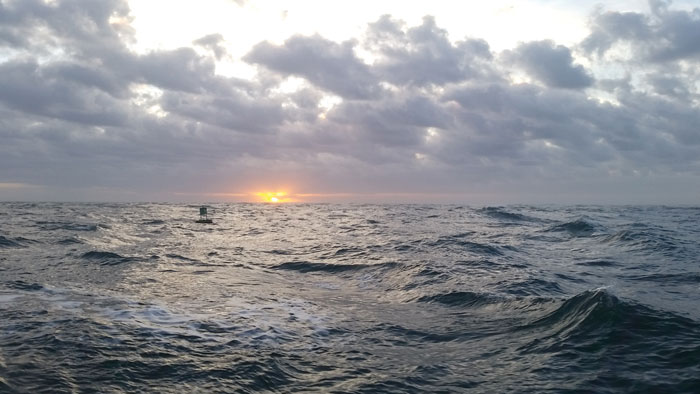 For Both Coastal and Offshore Sailing
Equipment suggested for both coastal and offshore vessels run the gamut. It includes, but isn't limited to, cockpit drainage specifications, sea cocks and valves for through hulls, foredeck toe rails, non-electrical charts, a depth sounder and radar reflector, and specifications for the mainsail reefing system.
One of the situations most feared by coastal and offshore sailors is a MOB. The SERs offer specifications for lifelines, jack lines, safety harnesses, tethers with specific snap hooks, and clipping points. Lifeslings should have a waterproof light, and vessels should carry a highpowered searchlight and have the electronic means to record the position of a MOB within 10 seconds.
Well-equipped coastal and offshore vessels will have both a permanently installed VHF and a handheld one, each with DSC (digital selective calling) and GPS capability and the MMSI number programmed in or registered to the vessel. One push on the emergency DSC button and out goes your location, alerting the Coast Guard, leaving the crew's hands free to contend with the emergency at hand.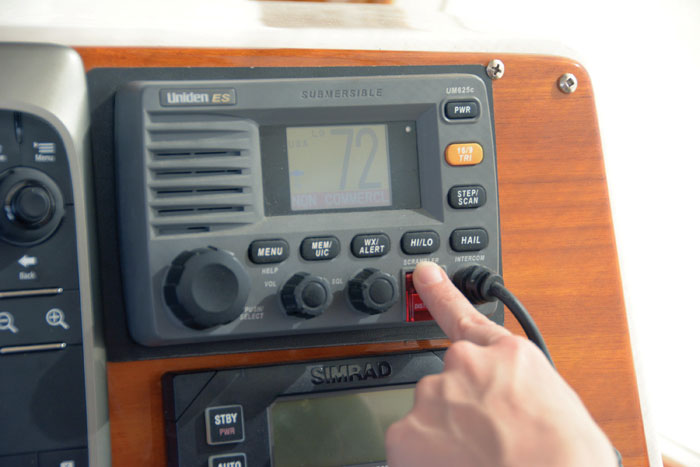 Offshore Passages
During a true offshore passage, help may not be readily available, so crewmembers need to be prepared to handle emergencies independently. Reading the offshore section of the SERs requires one to think about the unthinkable. For example, the regulations state that an offshore vessel should carry tools to quickly disconnect or sever the standing rig from the hull, have a second permanent manual bilge pump operable from belowdeck, and have mechanical propulsion ability for 10 hours. Grab bags for each life raft are to include an EPIRB and a handheld VHF, among other things. Tough stuff.

Other offshore equipment is a little less intimidating: hand holds, a stove with a fuel shutoff, bunks, a head, a sharp knife that is accessible from the deck or cockpit, a second set of navigation lights with a different power source, a knot meter or distance measuring instrument, and a second magnetic compass for steering at sea. Sail inventory shall include a trysail that can be set independently of the main boom, and heavy weather and storm jibs, described in detail.

No matter what type of sailing you do, essential safety gear is, well, essential. While it may seem overwhelming, most coastal and offshore sailors gradually collect their inventory over the course of years… or they borrow or rent it. Race and rally organizers and seasoned sailing friends stand ready to help. Talk to them, and be safe out there.

Safety Equipment Regulations Update
In 2019 US Sailing approved new SERs for multihulls and added a monohull requirement that a diagram or chart locating principal items of safety equipment and through hulls be posted prominently in the main accommodation area.
This article is intended as an introduction to the SERs for monohulls. Follow these links for more safety information: ussailing.org and VHS DSC marine radio. A guide to federal requirements and safety tips for recreational boating is available here.
This is the first of a three-part safety series safety. See the February 2020 issue of SpinSheet for crew training tips, including lessons learned from Safety at Sea Seminars.