Hooked on sailing
Ash and Ray have always been adventurous, outdoorsy people by nature, so when they met in Florida, the couple were often looking for fun, active things to do. One day, Ray booked sailing lessons as a fun date. As soon as the enine was shut off and the boat as moving under wind and sail power, the pair were hooked. Here Ash describes their journey.
Beyond sailing lessons: a fixer upper
After completing three sailing courses, ASA 101, 103, and 104, Ray and I bought a fixer upper. Tabula Rasa, a 37-foot Tartan, was in very bad shape and needed a refit, but we bought it for only $5500. We put in a lot of work—and quite a bit of money—but the experience that we got out of it was priceless. While we were busy working on our boat, we gained more sailing experience going out with a friend on his boat. Based on our experiences, I would say that sailing socially or on your own boat can be just as educational or more so than taking classes.
Tabula Rasa spent two years on the hard in St. Augustine, FL, as we did the (long list of) essential things: new through-hulls and seacocks, repairs to the keel and centerboard, rebuilding the rudder, engine repairs, some deck work, and new rigging. We then launched and bounced around the Florida ICW for some time, while working on other projects like the head, engine (again!), and small upgrades here and there.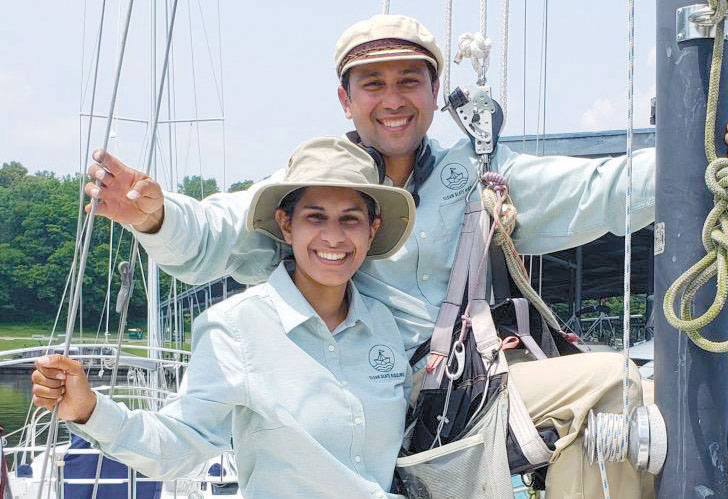 Clean Slate Rigging
One day, as we were on our way south to the Florida Keys, we decided to pull into Titusville Marina to fix a leaky chainplate. As we were working, we noticed some riggers working down the dock and stopped them on their way down asking, "Hey, do you have time for a rig tune? We're leaving tomorrow." It was such short notice, we didn't expect a yes, but they saw us working together and said they would stop on their way out and give us some pointers. They did, and that evening they said that if we stayed, they could teach us a couple of things. It was an easy choice. We delayed our vacation, stayed a month, and Walden Rigging took us under their wing. They made us an offer we couldn't refuse: "If you sail 1000 miles north to North East, MD, we'll teach you to be riggers."
And here we are, totally infatuated with rigging and the Upper Chesapeake, already calling it home. Tabula Rasa is now docked on the North East River where we live and work aboard. Our business, Clean Slate Rigging and Sailboat Services, combines so many of the things we love: boats, seeing people sailing and having a good time, working together, and being active and outdoors.
Did you have any preconceived notions about sailing?
We thought that sailing was going to be terrifying once the weather got bad or the wind picked up. We avoided sailing in high winds or bad weather, but once we started getting out there, we learned to reef and balance our boat, and that sailing is a lot less scary than we thought. In fact, our relaxing hobby can be quite exciting and exhilarating!
Did you encounter any obstacles or barriers when you began sailing?
The greatest obstacle that we faced was the one that taught us the most: doing our own boat work and constantly learning how to manipulate the machine. With a boat as old as ours it was constantly in need of repairs and upgrades.
What are your future sailing plans?
Hailing from Florida, the Chesapeake Bay is a new and exciting playground we have not yet fully explored. We're excited to go sailing up here, explore quiet and scenic creeks, and go buddy boat sailing with our friends. One day, we would also like to sail all the way up to Maine; it would be a dream to sail the entire Eastern Coast. At some point we would also like to sail to the Caribbean, especially Puerto Rico, and spend some time island hopping there.
Helpful links:
More Start Sailing Now profiles
Find previously-owned boats for sale
Educational opportunities at the US Sailboat Show in Annapolis, October 13-17