An easy and economical way to fit sailing into an already full life
Growing up in Southern California, Christine Morioka went sailing on her parents' Catalina sailboat, but she never actually learned how to sail. Now in her mid-30s and living in the Norfolk, VA, area, this past summer she finally found a way to fit learning how to sail into her busy life. Here she shares in her own words her experience.
I had dreamed of sailing for years...
I had dreamed of learning to sail for years, but with kids, a job, a dog—finding the time to learn how to sail had been hard to prioritize. However, one day when I was out walking along the Elizabeth River waterfront, the colorful sails of Sail Nauticus boats caught my eye. I decided to find out about a Sail Nauticus membership and enrolled that very same day! I have been going out sailing one to two times per week ever since. I even started to compete in some of the Sail Nauticus races.
Not your parents' sailing experience
When I was growing up, my parents' hobby was sailing, and our Sundays were mostly cleaning or fixing parts of the boat. My impression of sailing was that it involved extremely high maintenance costs (both time and dollars spent) and was all-consuming—and that too little time was actually spent sailing.
Sail Nauticus completely debunked those preconceived notions for me and broke down all of my perceived barriers with the perfect blend of laid-back, family-friendly, budget-friendly, social sailing experiences. With the Sail Nauticus community sailing center experience, sailing has been affordable, low maintenance, and therapeutic!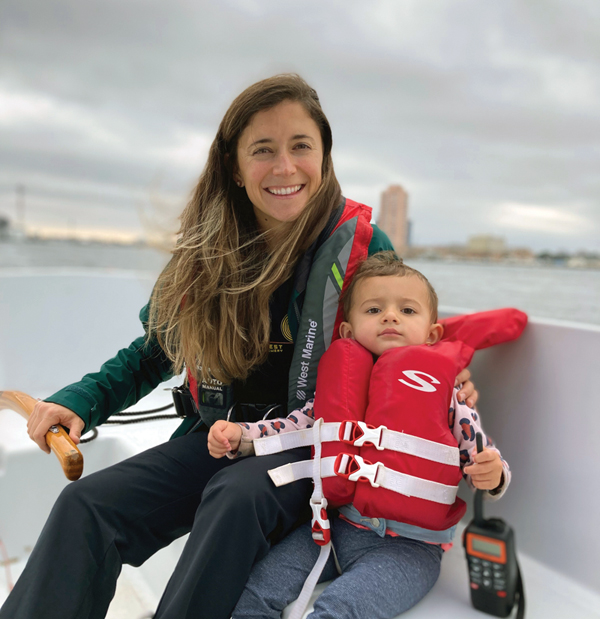 Tell us your recent sailing experiences and future plans
I have never taken a formal class, but last summer I went out sailing with experienced Sail Nauticus skippers one to two times per week during June and July. I also read the ASA Basic Keelboat book. With this experience, by late summer I was able to pass the skipper's test at Sail Nauticus, allowing me to take people out as my guests aboard the Sail Nauticus fleet of Harbor 20s.
Going forward I would love to continue to be a part of community sailing programs and race in local races. I also have dreams of sailing the entire Intracoastal Waterway and chartering boats abroad.
If someone wanted to learn to sail, what would you tell them?
Join Sail Nauticus! I can't say enough good things about the program and membership they have in Norfolk. If not Sail Nauticus, find a community boat club in your area or take a class.