What began as academic mentorship evolved into a shared love of sailing
Eastport Yacht Club sailor and Seeds 4 Success mentor Kathleen Kryza introduced us to the month's Start Sailing Now profile, eigth grader Ki-Niya Henson, who has been sailing since age 11 thanks to the Seeds 4 Success program, Kathleen's mentorship, and scholarships awarded by the Eastport Yacht Club Foundaiton (ECYF). Here is a peek at her sailing story.
When Ki'Niya and Kathleen met
As a mentor with Seeds 4 Success, Kathleen was matched four years ago with then fourth grader Ki'Niya. From the beginning it was a good pairing, and the two have made a lasting connection based on their mutual love of the outdoors. When Ki'Niya told Kathleen that she liked being active and being outside, Kathleen thought that sailing was something that Ki'Niya should try.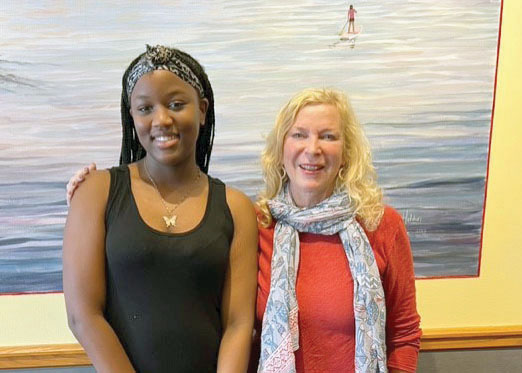 Tell us about your first time on a sailboat and what you like most about sailing.
My first time on a sailboat was with the Seeds for Success summer camp. I told Kathleen that I really enjoyed it, and she suggested that I apply for the EYCF scholarship, and I got it! The first time I sailed I felt unsure about whether I was going to like it. There weren't many people who looked like me, and I wasn't sure what to expect. Once I got out on the water, I liked the feeling of freedom and openness and how the views of the Bay were different from on land.
Now that I've been sailing for a few years, my favorite positions on the boat are steering or trimming the mainsheet. In sailing camp, I am sometimes on a Feva (a doublehanded dinghy specifically built for youngsters and adult/child teams), but a J/22 is my favorite type of sailboat.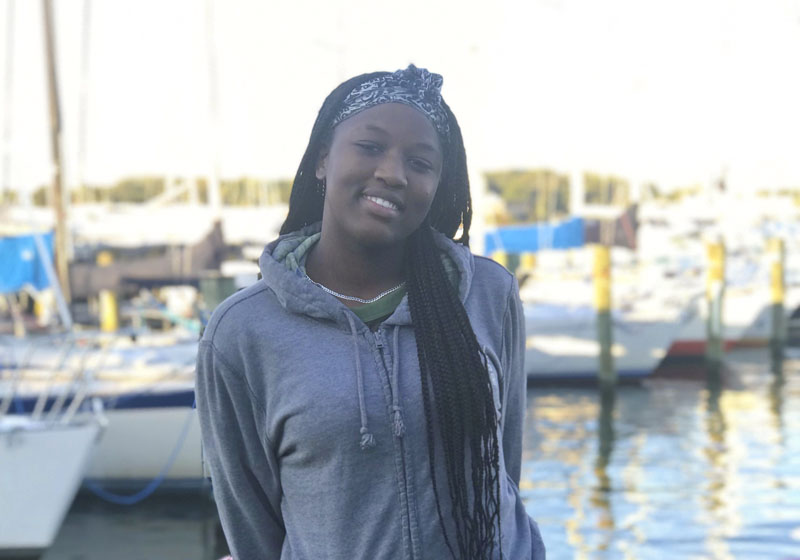 Did you face any challenges or obstacles when you started sailing?
At first, I felt out of place. I didn't have any friends that sailed, and I didn't come from a family of sailors. But once I got out on the boats, I started to like it, and soon I was able to make friends with other kids in the program because we had something in common (sailing!) to talk about. Now I keep up with my sailing friends even when camp is over.
How has sailing changed you?
My confidence has grown. I'm less shy. I see myself as a sailor. I've met new people and made new friends. I've learned to always try a new experience and that just because something feels awkward or uncomfortable the first time you try it, you should go back and try again because you might find that with a little practice, you love it—like I did with sailing.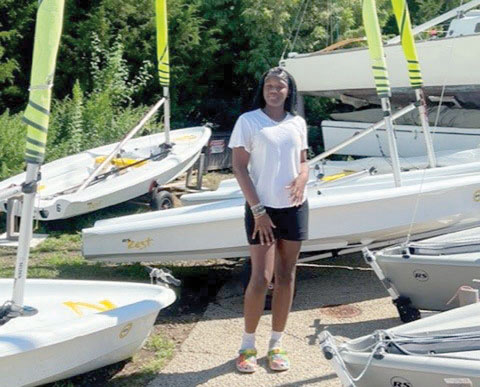 Big dreams for the future that include sailing
Next summer I hope I can be a junior sailing counselor at Eastport Yacht Club. I like being with young kids, and I love sailing. Plus, I've been told I'm kind, so it seems like being a sailing counselor is something I'd enjoy.
Next year I'll go to high school, and after that I plan to go to college. I have started to do some modeling, and I would like to pursue a modeling career.
I want to keep sailing all my life. Kathleen and I are looking for ways that I can continue to sail for pleasure as a hobby while I'm in high school, without necessarily racing on a sailing team. One day I would love to own my own boat.