Certainly, he wasn't thinking of sailing
For more than 20 years Robert Klein has been sailing specially designed accessible sailboats, racing such vessels in regattas, and making bluewater ocean passages. Rob got his start on the water in small powerboats as a kid on Cape Cod. His introduction to sailing didn't happen until adulthood, after an injury caused him to become a quadriplegic. Rob says being a sailor has enriched his life with friendships, travel, competition, self-reliance, and opportunities to strive for accomplishment. Here is a bit of his story in his own words.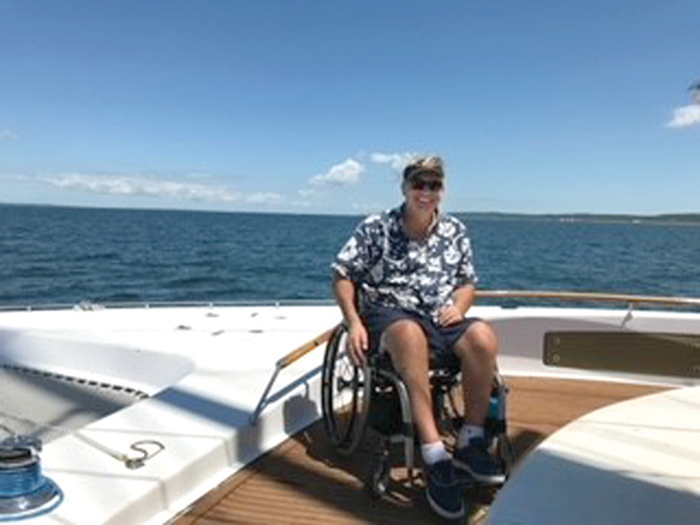 Sailing enriches my life in so many ways
Having been active in sports all my life, I wasn't sure what recreation would look like for me after a diving accident at age 31 where I broke my C6 and 7th vertebrae making me quadriplegic. Certainly, I wasn't thinking of sailing.
Enter the late, great Don Backe, a passionate, wonderful guy, and a sailor. He was also in a wheelchair and had begun a non-profit organization called Chesapeake Region Accessible Boating (CRAB). He invited me, along with a therapist friend for a sail, and although it was my first time on an adapted sailboat, Don handed me the helm right away.
During our time on the water, I experienced such a sense of freedom. I was away from my wheelchair, yet I was moving and doing something that didn't require me to look for the ramp to access, and I wasn't constantly looking out for barriers. I wanted more of that. Shortly thereafter Don introduced me to Lance Hinrichs, who invited me to crew for him on a Freedom 20 named Blue in the CRAB Cup. Soon Lance had me sailing in the national championship North America Challenge Cup in Chicago. It was exciting to be on the water and to be included in the camaraderie off the water with 50-plus of the best disabled sailors in North America, so sailing became part of my recreation, my therapy, my rehabilitation, and my new goals in life.
CRAB sailing made a big difference
Soon I found myself serving on the CRAB board and started a monthly race training group of about 10 people with a half dozen volunteer able-body tacticians from local yacht clubs. It was a great program for me to grow my sailing knowledge and develop friendships with people overcoming similar challenges. Although I moved to St. Petersburg, FL, 12 years ago and sail there, I'm still a big fan of CRAB and try to race the Don Backe Memorial Regatta every June, oftentimes racing with my pre-paralyzed friend Brad LaTour who has served as president of CRAB and has helped create and shape the new vision of the organization.
The current focus of CRAB is building an Accessible Boating Center (ABC) on Back Creek. Executive director Paul "Bo" Bollinger has done a wonderful job spearheading the effort. Currently he is overseeing the construction of the facility, building out the waterfront access and docks, as well as maintaining CRAB's fleet of sailboats—all accessible to disabled individuals. It's going to be one of the premier facilities of its kind in the world. Brad and Bo's families and the other hundreds of dedicated CRAB volunteers are making it all possible.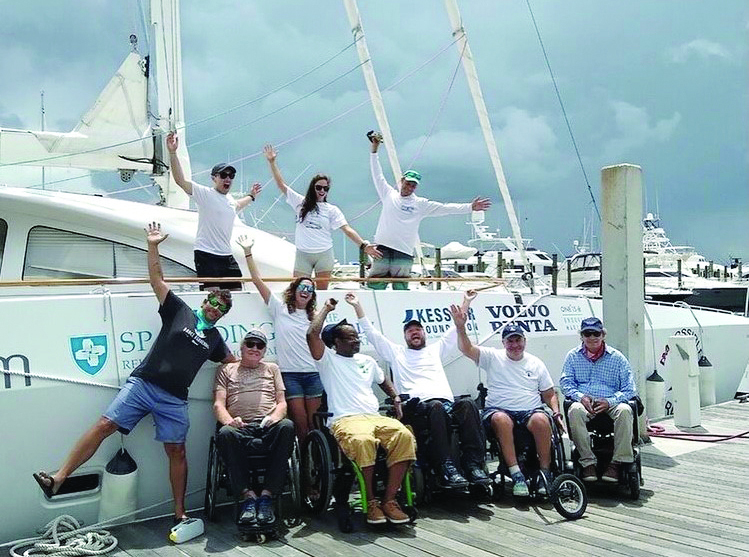 Not an impossible dream
Impossible Dream is the name of a 58-foot catamaran sailboat on which I crew. It had been designed and built as a personal yacht for a wheelchair user to be able to sail from their chair. It was later sold to Deborah Mellen who had the fantastic idea to share barrier free sailing with others with disabilities by creating the nonprofit Impossible Dream, which now makes sailing attainable for over 1000 people every year with as many as 10 people in wheelchairs onboard at a time. Because of Impossible Dream's design, I've been able to sail in my wheelchair on bluewater legs along the Atlantic. The longest was five nights at sea rounding Hatteras from Miami with a crew of mixed abilities. This is my sixth year crewing, and I have now sailed with her from Miami all the way up to Maine. The adventures keep me smiling and looking for new ways to enjoy life. Currently we are looking for ways to develop the racing component of Impossible Dream to compete in multihull class regattas.
During Covid a small crew of Captain Will, first mate Paulina, and a couple of quarantiners lived aboard for three months as we videoed our voyage for social media to ensure that our usual guest sailors could be on the water albeit virtually. There are highlights but my favorite video captures the entire crew up early at the helm breaking our speed record headed north rounding Hatteras at 21.9 knots in nine-foot seas. We had just jibed and were headed downwind with gusts over 44 knots. Learn more and see the links at impossibledream.org.
A community of competition, friends, and hope
Sailing has become a special part of my life. I've now raced in countless regattas, competed in the Chicago championship about a dozen times, sailed around Cape Hatteras eight times, raced in a 100-year-old Herreshoff on Martha's Vineyard, and had many anchors dropped into the Chesapeake Bay, Cape Cod Bay, Long Island Sound, Buzzards Bay, and beyond. I hope to continue to sail as long as I can and enjoy all these sailing friends in ports along the way. When a community of disabled people comes together for a recreational activity, it naturally becomes a fun way to learn from one another and experience hope. While we are often competitors, we are also one another's biggest fans. Sailing has definitely enriched my life, and I cannot imagine living well without it.