Meet Kristin Rutkowski
as told to Beth Crabtree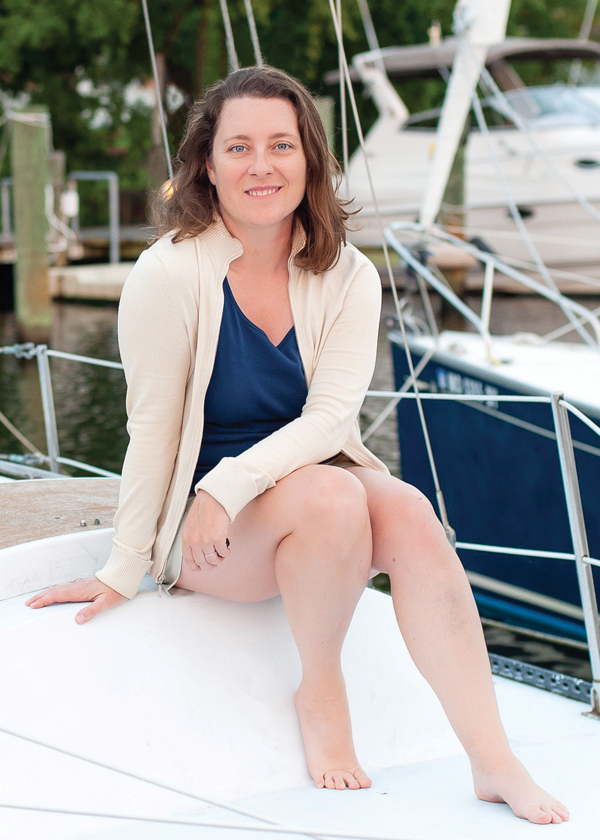 A summer of beginnings: marriage and sailing
The same summer that we were married, 2009, my husband and I bought a 28-foot 1972 Bristol half ton sailing sloop. I was in my late 20s, and I learned to sail by just playing on our boat—no classes or formal instruction. My husband is a better sailor than I am, and he has always been supportive and receptive of my growth on the boat.
For the first nine or 10 years, we kept our Bristol in Back Creek in Annapolis. I loved the activity and being in the middle of so much sailing. Now we keep the boat at Herrington Harbour South (HHS), and although I miss the bustle of Annapolis, HHS is an amazing resort marina.
My favorite times on the boat are our casual cruising and day sails, either just the two of us or with other friends. I've also really enjoyed our weekend cruises. We particularly like going to San Domingo Creek to visit St Michaels, MD. Although our boat is mainly my husband's boat and hobby, it is a partnership. At one point when he was busy with other projects, I took more of a lead role in caring for the boat, and although some mechanical issues require his physical strength, in general I've been capable of sailing it on my own with friends.
Women Underway
I joined the Herrington Harbour Sailing Association (HHSA) in 2020, attracted by the Women Underway group. This is our first sailing group. Prior to 2020, I had a small sailing network of only a few friends. That network has widened a lot since joining HHSA and starting the Her Helm project (more on that below).
Just as I joined Women Underway in the spring 2020, the pandemic began. Although I attended Zoom meetings, it wasn't until the summer 2021 that I had my first chance to participate in-person. I joined the Women's Regatta after a skipper invited me to crew on her boat during one of the planning Zoom meetings. During the season, I did some general sailing on other women's boats, and it was great to be on boats that are a little different than ours. It was really educational to see and learn how other gear worked, such as a hank-on jib versus a roller jib, lines that lead aft, and a wheel versus a tiller. Toward the end of the season, I participated in the Women's Cruise, which was an overnight trip to the Annapolis area.
Over the last two years, I've gained some great insight, met more women in sailing, and made friendships. I realize now that before joining Women Underway I was pretty isolated. I also appreciate more that my husband is so supportive of my growth on the boat. This is something that I've come to understand is special. With the Her Helm project, I've talked to women whose male partners aren't always so supportive.

Her Helm
I am a portrait photographer, and in 2020, I was considering what to do for a personal portrait project. I had not seen a lot of female boat owners, so I decided that my project would be to feature women who captain vessels. There are undoubtedly more men in this field than women, but women are increasingly making a space for themselves. I want to bring them more visibility and help break the stereotype of the male-only captain. The project is called Her Helm. Many, but not all, of the women featured in Her Helm are sailors.
I've learned a lot about the boating world since starting this project. Before I began, I didn't know anything about Coast Guard licenses or all the different ways you could work on the water, such as aboard tugboats, ferries, cargo ships, tankers, etc. It's awesome now getting to meet so many awesome women and share their stories. The most interesting part of the project is really all the women that I get to celebrate. Sailboat owners, fishing charter captains, teachers, tug mates, tanker mates—so many cool women have been featured in Her Helm. And the project keeps growing. I am now in the planning stages of a 2023 Her Helm exhibit at a local maritime museum, which will coincide with me publishing a book to be available at the exhibition.
Editor's note: Look for Kristin's photography at kristinrutkowskiphotography.com and herhelm.com.