An inauspicious start: my first sailing experience
Meet Jason O'Mara, whose first sailing experienced didn't go well, but he learned to love sailing anyway! In his own words...
I truly fell in love with sailing because it required a beautiful combination of technical skill, creativity, self-reliance, and an understanding of the natural world, but my very first sailing experience established within me a sense of trauma and impossibility connected to sailing.
In exchange for sailing lessons on Barnegat Bay, NJ, I built a website for a gentleman who wanted to start a sailing school. I was his first student, and the first lesson went terribly. The boat capsized, I injured my hand, and was rescued by another boat.
I eventually learned that my first sailing experience was not typical. When taught properly, learning to sail is easy, fun, rewarding and, above all, safe. Although I would not wish my first experience on anyone, I am grateful for the valuable lessons it taught me about preparation, safety, and responsibility for one's crew.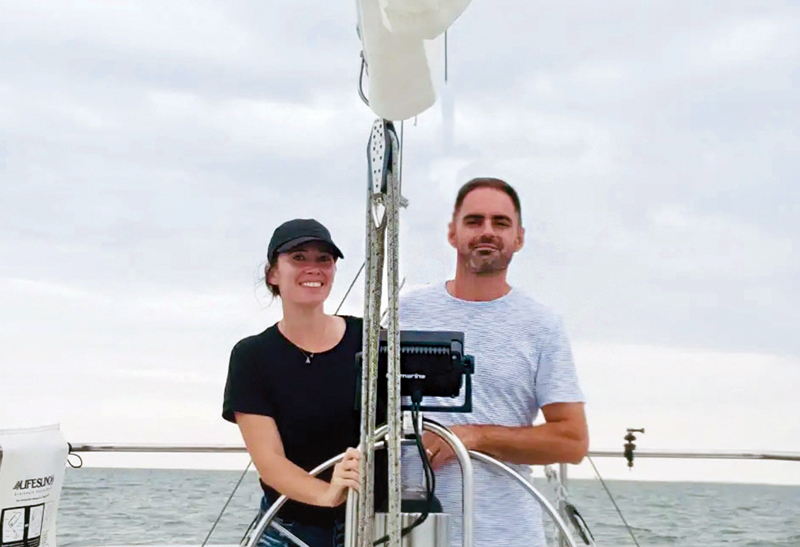 Falling in love with sailing
Not one to back down from a challenge, I persevered through my fear of capsizing again and registered with a sailing school certified by the American Sailing Association (ASA) on the Delaware River. It was through that class and sailing with my friend, Slavko Milekic, on his Hunter 23 out of the Elk River, MD, that I truly fell in love with sailing. It required this beautiful combination of technical skill, creativity, self-reliance, and an understanding of the natural world that made it really appealing for me.
Eventually, I acquired a 1980 MacGregor Venture 22 from a family friend in exchange for some website design work. I docked it in the Elk River, and my girlfriend, Ellie, and I spent a few years fixing it up and learning how to sail and eventually flipped it for an old Catalina 25 named Jacinta. We moved our home port further south to Maryland Marina to have access to more wind, water, and places to explore. Here we joined NC3 (Northern Chesapeake Cruising Club), a local sailing club. The people we met through NC3 have been incredibly kind, providing guidance and assistance with destinations, boat repairs, sailing, and more.
Next, we moved up to a 1981 Tartan 33, which we named Lindquist. My girlfriend, who had become my wife by then, and I spent nine months traveling to North Jersey to refit her. It was a massive undertaking, but extremely rewarding. In July 2021 we sailed her from Sandy Hook, NJ, to the Chesapeake Bay. The journey was an incredible adventure filled with challenges and great experiences. We now plan to spend more time on the Bay, fine-tuning our skills in sailing, provisioning, and weather routing in preparation to one day sail down the East Coast to the Caribbean. It's my dream to sail across the ocean someday.
Advice for a would-be sailor
Don't delay another day! Search the internet for sailing clubs to make connections with those who have boats and are willing to let you crew with them (Editor's note: try the SpinSheet crewfinder tab). Take the ASA 101 course. I learned much of what I know about sailing from ASA 101, talking to other sailors, and YouTube channels such as How to Sail Oceans, Josh Post, and Sailing Uma and putting into practice what I learned.
When you feel ready to purchase a boat, consider getting something that might need a little work. Repairing a boat can not only be a meditative experience, but it also helps grow your knowledge and understanding of the systems of your vessel and how they operate. Above all, have fun, keep practicing and, if you have a boat, share the experience with others!
by Jason O'Mara
edited Beth Crabtree