From field sports to sailing
Prag Katta grew up competing in field sports and didn't start sailing until he was in his 30s. Community sailing programs offered him the opportunity to get time on the water in a variety of sailboats, as well as connections with sailors who could help him grow his skills. Now an accomplished sailor, sailing instructor, and the owner of an Inland 20 Scow, Prag shares here in his own words a brief description of his sailing journey.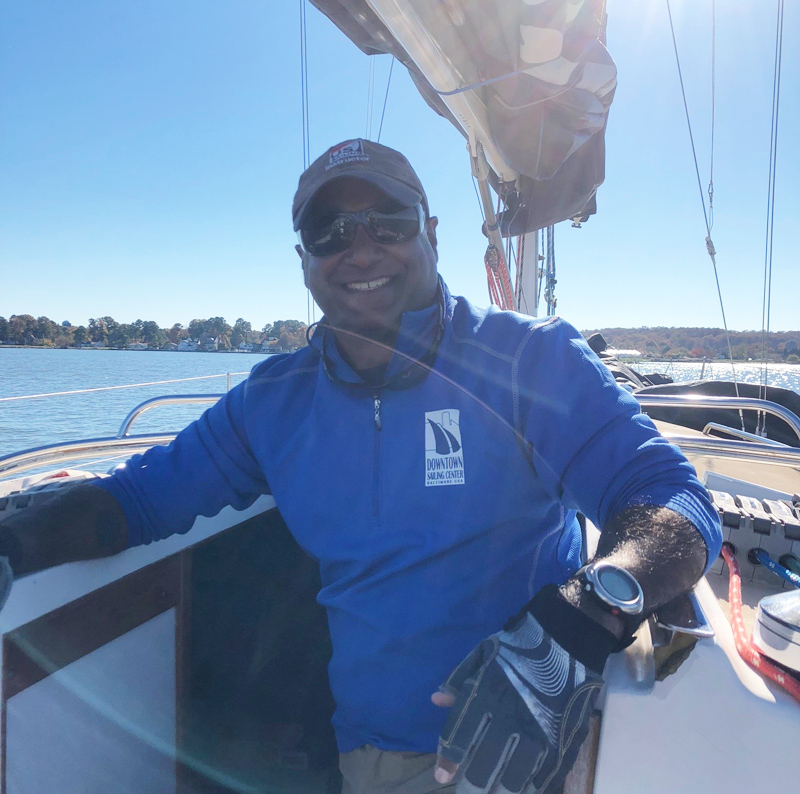 Getting started: lessons, community sailing programs, clubs, and OPBs
In my teens and 20s I had two sailing experiences, one on a Sunfish and one on a keelboat with some heavy weather rolling in. I loved both experiences but was busy competing in soccer and lacrosse. When I finally had the time to focus on sailing, I took a course at Annapolis Sailing School. Then I looked for as many opportunities as possible to sail. Friends and I regularly rented a boat out of Solomons, and the owner was a great resource. I got into racing when a friend invited me to be part of his race crew.
By luck I got connected to DC Sail, the community sailing center on the Potomac River. There I learned to sail FJs and Flying Scots. DC Sail needed volunteers; I got instructor certified and began teaching. My connections there led to racing at nearby Daingerfield Sailing Club, and I began receiving invitations to crew on more boats and bigger boats. I was fortunate to be aboard a series of well-run racing campaigns where I gained more experience and confidence. Ocean racing and offshore delivery opportunities began to come along.
Did you take formal classes or earn formal certifications?
In addition to the class at Annapolis Sailing School, I've earned US Sailing Keelboat and Performance Cruising certifications, and I am a certified US Sailing Basic Keelboat and Performance Sailing Instructor. I've taken diesel and weather classes at the Annapolis School of Seamanship.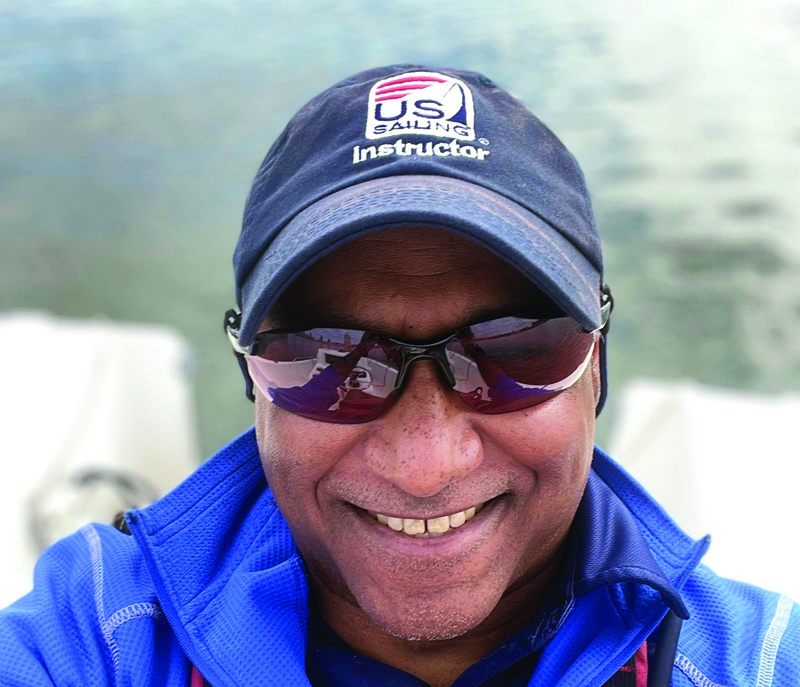 What would you tell someone interested in learning to sail?
As a senior instructor at the Downtown Sailing Center, I get asked that question often. I tell people that the sport is hugely varied, and there is a niche for nearly anyone, whether you like big boats or small boats, racing, day sailing, or cruising. I advise against rushing to buying gear until they evaluate what they really need and want, and I caution new sailors that anyone who acts like they know it all probably isn't someone you want to sail with. To become a great sailor requires effort, opportunity, and humility.
Did you encounter any obstacles or barriers when you began sailing?
There are two broad categories of barriers that I have experienced: opportunity and attitude.
Regarding opportunity, the world of sailing is quite small. Once you're in it, it's not uncommon to have one or two degrees of separation from just about everyone, but for those of us who didn't grow up with it, who don't know the culture or the venues, this can be the biggest barrier. For me, getting tapped into places to sail was the biggest primary barrier to opportunity.
My experiences at several community sailing centers and coaching high school sailing have impressed upon me that interest in sailing is high, but many people simply don't know how or where to get started. Developing more community sailing centers and public clubs is the way forward, and everyone, including private owners and clubs, benefits from that.
Regarding the other category, attitudes, that subsumes a lot of different elements. As a person of color, it is not uncommon for me to be the only person who looks like me in a lot of environments. In sailing it is even more pronounced. There are things that I have experienced including pre-judgements and racist comments that no one should have to deal with. Historically, sailing was far more diverse than the current conceptions. Attitudinal barriers just diminish us all and hurt our sport.
Profoundly grateful
I'm profoundly grateful to have so many friends in sailing who are actively working to minimize those negative influences. There are people I've met through sailing who are lifelong friends and even chosen family. So, I'm grateful for sailing for giving me all of that, and I want that for anyone who gets the itch to step on a boat and see what they can do.