An invitation to sailing
About 10 years ago Robert Oppelt, Principal Bass with the National Symphony Orchestra of Washington, DC, (the resident orchestra of the John F. Kennedy Center for the Performing Arts) was offered an invitation to go sailing out of Galesville, MD, with a family friend. The invitation sparked an interest to pursue sailing as a hobby. Here Bob shares in his own words his experience of becoming a sailor on the Chesapeake Bay and beyond.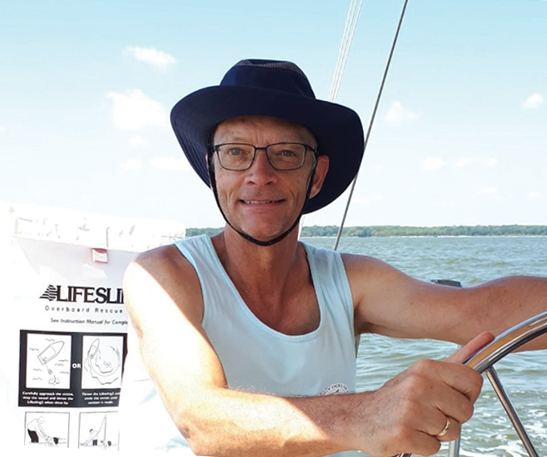 I started sailing in 2012, at the age of 51, when a family friend invited me to go sailing on his old Cape Dory 28, which he kept at Hartge Yacht Harbor in Galesville, MD. We continued sailing together often, even in winter, and I got competent enough that he would let me skipper the boat with family and friends.
In 2017, I began taking American Sailing ASA classes to improve my sailing competency. Time on the water is important, but the courses are a big help, especially, when it comes to safety. And sailors have different ways of doing things, depending on their boat or the particulars of their docking slip, so it's good to learn the textbook way of doing things as well. I've taken ASA 101 through 105, 114, 118, and Safety at Sea with International Proficiency. Most recently, I took a catamaran course at Charleston Sailing School. Captains appreciate that you are doing everything you can to be a safe, competent crew member.
Onto Racing and Chartering
Also in 2017, I emailed a lot of captains through the SpinSheet website (Crew Finder page), seeking more sailing opportunities. Two or three responded with invitations. I started racing a little in Baltimore, then in Annapolis. I was fortunate to be invited to crew on Chessie, a J/105 captained by John Kircher. John is a classical music lover, which is probably the only reason he allowed me on the boat. I made a lot of mistakes at first. Racing is pretty intense in Annapolis, and most crews are established teams which hardly ever practice. A newcomer has to learn fast and have thick skin. I've learned a lot and worked hard to improve. I will always be grateful to John for giving me a chance. After a few years my place on the boat seems to be firmly at the bow, which I quite like. It's invigorating—to say the least! I'm racing less these days, especially due to Covid-19, but I was never really first string. The level of commitment has been difficult for me since I often have concerts on Saturdays and rehearse until late afternoon on most Wednesdays.
I also feel it's important to continue to build my own skippering skills, and I partnered on a Bristol 30 for a year, which is a lovely boat. I was also quite proud of myself when I bareboat chartered with my family in the BVI last year on a 41-footer. Most recently, I joined the sailing club at The Sailing Academy, which has been wonderful. In a couple of years I hope to get my "six pack" license, but I'm still way short of the required days on the water. My current sailing rate is about 40 times a year.
Parallels between music and sailing
At the highest levels music and sailing require intense mental focus. There's an element of risk with both—that of crashing or sinking with sailing, and with music, the embarrassment of being out of sync, or even more egregious, the outright "crash" of an accidental solo. Finally, there's the beauty of each and how they affect us emotionally. That's what keeps us coming back for more, whether sailing or music.
To experience the best musical rendition of the sea, consider listening to Claude Debussy's La Mer, a tour de force for orchestra. Turn it up loud, and I guarantee the voyage will rival the last Nor'easter you weathered!
What would you tell someone interested in learning to sail?
I've played golf poorly for many years and would usually leave the course frustrated with my game. Never have I been disappointed by a day on the water! Once I got into sailing, I was really impressed by how smart and accomplished sailors are. You meet people from all walks of life and education levels. It should be no problem finding people willing to take you on their boat, but don't underestimate the importance of taking courses at one of the top-notch sailing schools on the Chesapeake Bay.
Editor's Note: This article originally appeared in the July 2020 issue of SpinSheet.