Good thing they didn't buy that powerboat
My husband, JR Gyger, always said he would own a boat in his lifetime, so once we were both out of college (and graduate school) in 2006 we started looking for a small, used powerboat. We were surprised at how expensive they were and became quite discouraged.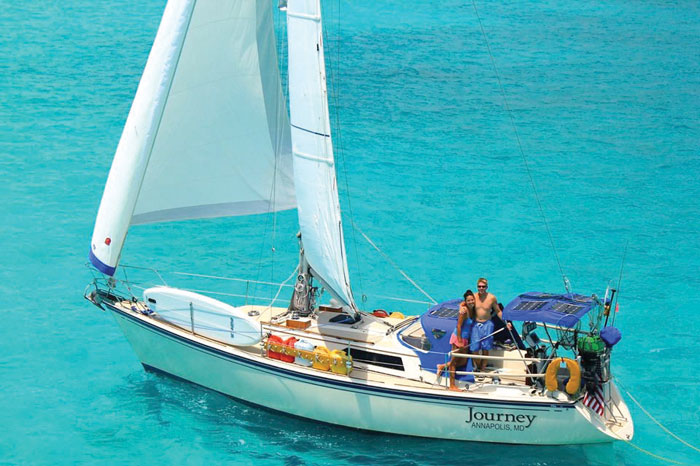 Then in 2008 I had a student in my kindergarten class who started sharing her adventures on their new sailboat. She said they would sail to little islands and beach the boat, and she and her sister would play in the sand and water. It sounded lovely! So, I talked to JR about sailing, and although neither of us had a lick of experience sailing, we signed up for a three-day class at Chesapeake Sailing School over Memorial Day weekend. He was 30, and I was 28.
Falling in love with sailing
JR immediately fell in love with the intricacies of sail trim, and I loved being on the water and moving from Point A to Point B solely using the power of the wind. About two months later, we bought our first boat, a Catalina 25, and named her Jacinta. We were surprised at how affordable sailboats were and found that they sell them to just about anyone! We had only one class under our belt and quickly had to learn about bottom paint, rigging, marinas, boat surveyors, tying up, and docking. That first year there was a pretty steep learning curve, and on our maiden voyage, we obviously ran aground.
We sailed Jacinta around the Chesapeake Bay, did a little anchoring, made it to Baltimore a few times, and generally enjoyed her on the Patapsco River. But in 2012 we got an itch for a bigger boat, and the hunt was on. We found Journey, an extraordinarily well maintained and well equipped O'Day 35 with plenty of headroom and incredible teak floors. Our plan was to sail her to the Outer Banks of North Carolina and live at a slip on Ocracoke Island for as long as we could pull it off. However, as we were researching this nomadic lifestyle, we stumbled across the world of "cruisers" and decided that stopping in North Carolina was silly, so we hatched a plan to sail to the Bahamas.
Sailing in the Bahamas
In 2013, only five years after learning how to sail, we rented out our house, quit our jobs, and sailed south with our cat, Leo, to the Bahamas. We left November 2, 2013 and returned to Annapolis in July of 2014. It was the most challenging and rewarding thing we had ever done. "Our boat trip" as we affectionately call it now, was life changing. We returned home more confident, with different priorities, and humbled. We kept a blog to share and remember all our adventures. (Editor's note: this story was written prior to Hurricane Dorian. Click here for information on how to help recovery efforts from the hurricane damage in the Bahamas.)
A new sailor joins the crew
In 2017, we welcomed a new member to our crew, and Journey had to take a backseat for a bit. Juggling an infant and boat maintenance proved to be very challenging for us. Journey sat out for a few seasons. This year however, with the help of family and friends, we splashed Journey and have been enjoying her with toddler in tow. Our sails have been lazy and our destinations a bit closer, but anchoring out and stargazing are still at the top of our list. Our boat is not rigged to singlehand, so we've had to get creative, keeping our toddler safe while sailing (read iPad), but it has been doable. We keep Journey in Mayo, MD, now, so Annapolis is a reasonable sail for us. And this fall I am determined to make it to Rock Hall, MD.
Savor the little things
Our daughter has demanded that we slow down and savor the little things, so there's more on-the-boat time like bubbles from the bow, baths in the cock pit, swimming from the transom, and watching the moon rise. And, although we are convinced that she will one day run off to camp in the mountains, it has been an honor to share this sailing life with her. It took us 30 years to find it, but she will know it as normal. It is never too late.
by Drena Galarza; edited by Beth Crabtree