Start Saiing Now: Meet Karen Southern
Karen Southern was first introduced to sailing in the early 1980s in Los Angeles, where she took a basic class on a small boat, similar to a Sunfish. Fast forward 30 years and Karen was living in Rhode Island, where she again took a basic course. This time she followed up with a little bit of sailing, but it wasn't until Karen moved to Baltimore that she really immersed herself in the sailing scene. She says she has sailed more in the past two years than her entire previous life combined. Here she shares a bit about her sailing journey.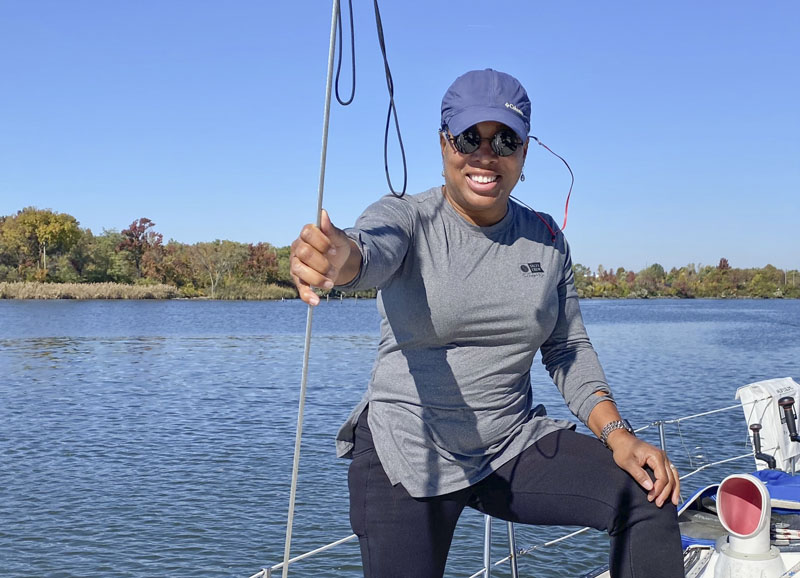 How did you get into the Baltimore sailing scene?
Before moving to the area, a little more than a year ago, I was here on a visit and from my hotel room saw sailboats on the water. I was intrigued and just a few months later I took an introductory sailing class at the Downtown Sailing Center (DSC).
Baltimore Harbor sailing offers plenty of opportunities for learning! There are lots of wind shifts, requiring us to constantly adjust our sail trim. I've learned to anticipate and adapt to them. At the DSC the boats don't have motors, so we learn to bring them into the dock under sail. The next sail training course I did, in Annapolis, I got a little bit of a different experience. I took a keelboat certification class at SailTime, where the boats had motors and all the bells and whistles. It was much different from the smaller boats in the Inner Harbor. In addition, I do some cruising with friends on a 35-foot Sabre.
Taking the leap to racing
I was honored to be invited to join a DSC Thursday night race team this season. My position on the boat will be jib and spinnaker trimmer. I had heard racing can make you a stronger sailor and offers opportunities to work on specific skills. My first race showed me just how much I need to learn about tactical moves, the mechanics of sail and spinnaker trim, and racing rules in general. It is an exciting, fast-paced experience, and since I am competitive and like to get my adrenaline going, I am looking forward to the rest of the season. I am also looking forward to the camaraderie of the race team.
The importance of giving back
I am so blessed to be able to sail as much as I want, and I feel a sense of responsibility to give back and help others get exposure to this sport. For me, it's not enough just to enjoy sailing.
I volunteer for the adaptive sailing program at the DSC, which is a no-cost, volunteer-supported program that allows individuals with disabilities to experience the freedom of sailing. The DSC has specially designed boats and docks that are equipped with accessible ramps and special lifts.
I also volunteer for the DSC's program with the Wolfe Street Academy, a charter school in the Baltimore City public school system. Two afternoons a week, we sail from the DSC docks in Federal Hill to meet the children in Fells Point and introduce third through fifth graders to sailing. The program, which also has a classroom component, serves children from underserved communities who might not otherwise be exposed to the sport.
Growing sailing
There's not a lot of people who look like me in this sport. That is one of the reasons why I joined the Universal Sailing Club, a group of sailors who are black. Seeing other sailors who look like you helps foster a sense of belonging. The club, formed in 2001, aims to cultivate a community of Black sailors on the Chesapeake Bay. Boat ownership is not a requirement. There are opportunities to crew with members who sail their own boats, or to charter boats with other members for day sails or weekend cruises.
What would you tell someone who is considering learning to sail?
I would tell someone interested in sailing that I like it for many of the same reasons that I like to ski. It's healthy and good for the soul. It brings freedom and the unlimited opportunity to continue growing, and you're outside in the fresh air, working with nature, not against it. It's an amazing, rejuvenating experience that recharges the batteries. Please try it at least once!