Messing around on a small sailing dinghy
Rick Schmitt grew up in New York City, hanging around a marina owned by his father and his father's father before him. The boatyard and marina offered plenty of opportunties for adventure (and misadventures), including the chance to mess around on a small sailboat and figure out how to sail. Here Rick shares a bit about how sailing became a lifelong interest and hobby.
​They didn't seem to mind too much
"I didn't really know what I was doing with that little nine-foot sailboat given to me at my dad's marina, and in such a confined space it was inevitable that I bumped into some of the boats docked there," says Rick. "But the customers, most of whom had watched me grow up, didn't seem to mind too much," he adds with a chuckle. "Sometimes I'd take out my girlfriend, Joanne, and we had a lot of fun."
Ready for more sailing
Years later while vacationing in the Caribbean, Rick and Joanne bought tickets for a midnight sailing cruise. As the boat healed under the stars, they reclined topside, leaning against the cabin, feet on the gunwale, listening to music, and drinking rum drinks. The memorable night convinced Rick that he wanted to do more sailing.
Eventually the couple moved to Maryland, bought a home, and started a family. Rick opened his chiropractic practice. Life was busy, but Rick made time for sailing.
"In 1985 while I was taking a sailing class held at Bowie High School, Joanne and I went to a winter boat show in Washington, DC, 'just to look.' Impulsively we bought a 35-foot Elite cruising sailboat. The boat that we'd be taking home was the one on display, so we went back to the show the next day with bottles of champagne, sat in the cockpit, and offered a glass to anyone who wanted to tour the boat and celebrate our purchase," he recalls.
Life's twists and turns
The couple still has that same boat. The keep it in a slip in Londontown, MD. For decades Rick has cruised out of the South River about once a week with friends after work. "We bring wine, food, and music and have a lot of fun," he says. Years ago, Joanne and Rick also bought a 30-foot Donzi powerboat to enjoy as a family as the kids were growing up.
Rick's introduction to sailboat racing came after a chance meeting with Fred Mertz, the original owner of the Schock 35, Blinding Fury. "In spite of my lack of racing experience, after we sat and talked about sailing, I guess Fred figured I'd make good crew," says Rick. "He invited me to race with him, and eventually I brought along my good friend Rob. The two of us, along with one or two others, became Fred's core crew. I was usually on the bow. We did several overnight races, won the Governor's Cup one year, and I earned my captain's license. Life was good."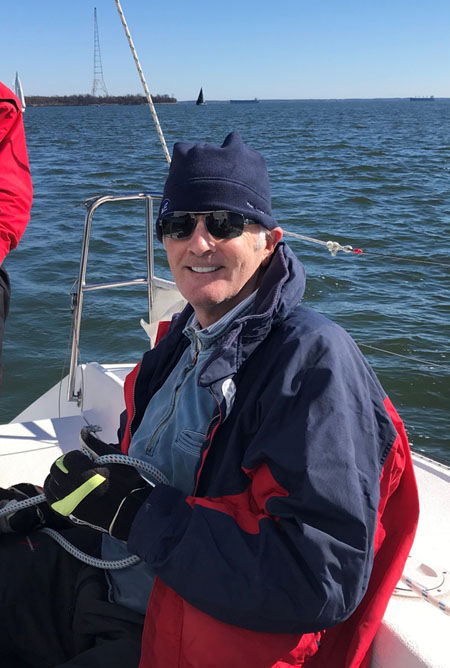 Racing
After about 13 years of sailing together, illness forced Fred to sell Blinding Fury, which was purchased by SpinSheet staffer Eric Richardson. "I thought my days racing Blinding Fury were over," recalls Rick, "but just before Fred passed, he asked the crew to take his widow, Susan, sailing on his birthday. Eric graciously took us all out, and a few of us ended up becoming crew for Eric! We race in the Eastport Yacht Club (EYC) Friday Night Beer Can series, the Annapolis Yacht Club (AYC) Frostbite races, and an occasional distance race."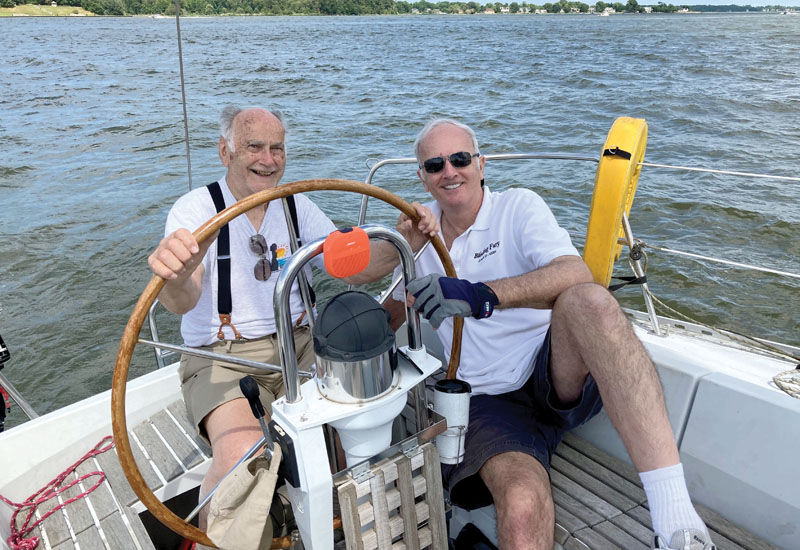 Sailing with Dad
Rick says, "After selling his marina, my father moved to Rhode Island. He always enjoyed coming to Maryland to sail with me. After his retirement I convinced him to move down here by dangling the prospect of regularly sailing with me. He made the move, and we still go sailing together. Dad, aged 95 years, and I look forward to more sailing next summer."