A serendipitous entry to sailing: Meet Allie Eberhardt
Allie Eberhardt's entry to the sailing world was a matter of serendipitous timing. During the Covid summer of 2020, she had recently turned 31 and like most everyone else, the pandemic changed her reality. She made an unexpected move back to Maryland after about 10 years away (most recently in the Blue Ridge Mountains of Virginia) and took a temporary, seasonal position with a sailboat charter company in Eastport. The job was fun and challenging, and it reaquainted her with the iconic waterfront lifestyle of the Chesapeake Bay region. From there, she never looked back.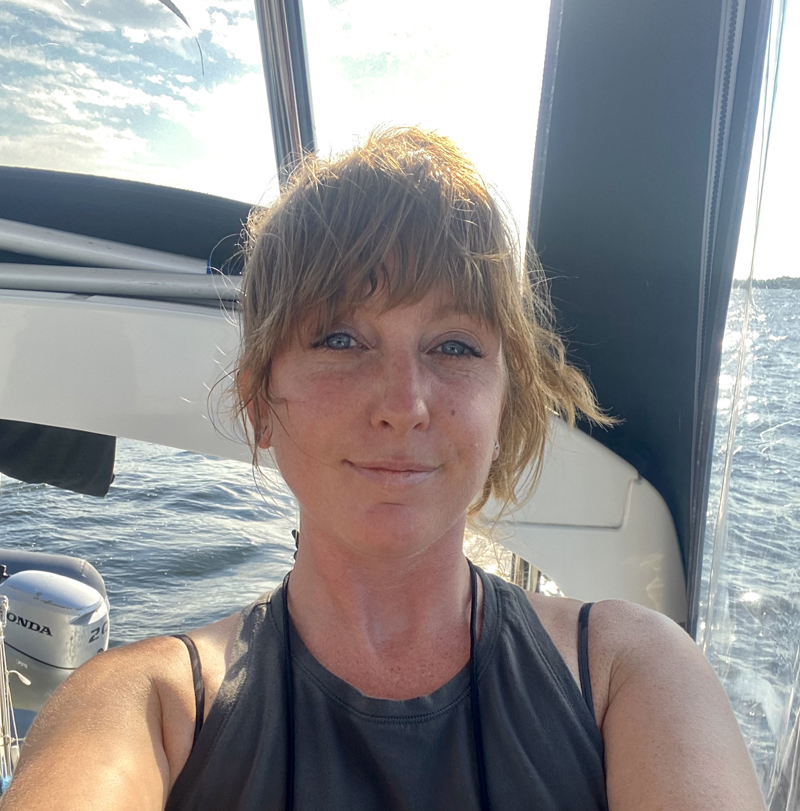 What kind of sailing do you do?
The bulk of my sailing time has been aboard 40-plus-foot monohulls and catamarans as a professional delivery crew member. In the past three years I have logged about 10,000 NM on various trips and excursions. I love ocean trips. These adventures have taken me up and down the East Coast, Puerto Rico, The Bahamas, and The Virgin Islands. Last summer I crossed the North Atlantic Ocean on a Hylas 70 from Bermuda to the Azores. Locally, I volunteer as crew with Chesapeake Region Accessible Boating (CRAB); we predominantly sail their fleet of Beneteau First 22As. Sometimes I participate in area weeknight racing.
Certifications and such
I am currently working on a USCG Master Captain's license with the sailing endorsement. I consider myself a lifelong learner, so I have gained tons of knowledge by asking questions along the way and taking notes from seasoned sailors. I think I had some inherent knowledge of sailing passed on to me. My grandmother helped start and run a yacht brokerage back in the 1970s, and we have a couple of immediate family members who sailed on a collegiate and a professional level. Growing up, I spent a lot of time enjoying the outdoors camping, backpacking, canoeing, and other outside activities. I learned to sail as a kid during summer camp and by way of occasional family outings on the Chesapeake. For me, being on the water is comforting.
What are your future sailing plans?
I plan to use my captain's license to help others enjoy the spoils of the region, and I definitely want to participate in a long-distance ocean race or rally cruise at least once. Eventually, and perhaps not all at once, I'd like to see the world by boat. Setting sail into the sunset with no schedule is my dream. My bucket list includes the Mediterranean, Australia, and the South Pacific. I've always had a spark for adventure and the wanderlust to follow. The magic is in the journey.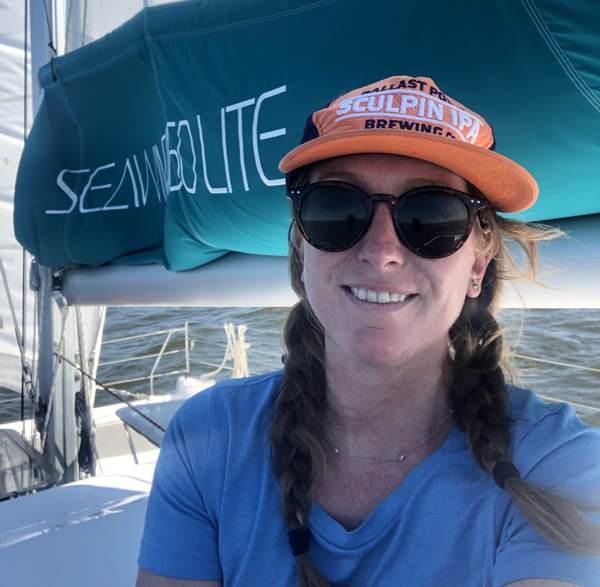 If someone is interested in learning to sail, what would you tell them?
Don't hesitate! Spring is upon us, and the time is now! Start small, dream big; get off the internet and onto the water! Sailboats are vessels for shared human experience and to connect with nature. The act of sailing will give you a better understanding of your own capabilities and a unique perspective on the world that surrounds us. I promise that you will find 'your people' and that tribe eagerly awaits your company! There is something for everybody, and I should hope that you find sailors a welcoming bunch, with all types of backgrounds and life stories.
In the past few years, it seems there has been a huge surge of people discovering sailing opportunities. Hopefully this trend continues. I'd like to see the sailing community and the sailing industry lead with inclusion, equity, and open mindedness. Anyone who wants to connect with me is welcome to find me on Instagram at allie_annapolis and on Facebook at Alliecat Sails.
Professionally, I am a full-time yacht broker who specializes in sailboats. Helping first time buyers navigate the entire sales and ownership process is one of my favorite parts of the job. The brokerage house I am with, Yacht Brokers of Annapolis, is filled with trusted regional rockstars. You can also find me behind the scenes or out on the water with Chronic Sailing. We have a boutique charter fleet made up mostly of catamarans. We host half and full day sails, exciting special events with other local businesses, and even personal instruction. It is an American Sailing (ASA) affiliated sailing school with a homebase located on the South River.