Sailing with family and friends
New sailors sometimes wonder how to get started in the sport. Sailing schools are a good place to start, but often a new sailor's introduction comes via an invitation from family, friends, and/or mentors. Such was the case for Allan Cranska who picked up his basic sailing skills cruising with his brother and eased into casual racing with friends. Here Allan shares some of his sailing experiences in his own words.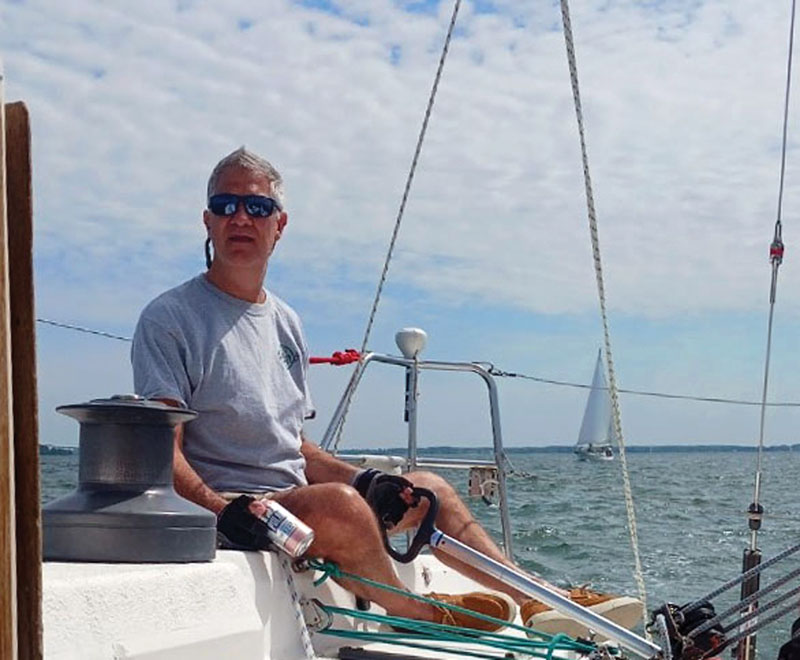 The leap to racing
I started getting involved with sailboat racing about two and a half years ago, at age 57, after my family relocated to the Eastport section of Annapolis. My good friend, Dave Cyphers, had been casually racing aboard Eric Richardson's Schock 35, Blinding Fury, and I got connected with the boat and its crew through Dave. I started as an alternate crewmember and became more assimilated into the group by doing frostbite racing during the cold weather months.
Although racing was new to me, I wasn't a complete novice. I had learned the basics and gained some cruising experience decades ago with my brother, Jeff, aboard his 1970, 30-foot Coronado. We never did any racing; it was strictly casual sailing with a few overnight trips. Jeff was based out of Cape St. Claire, so we would start at the mouth of the Magothy River and go right into the Chesapeake Bay. The biggest concern was not to get run over by a tanker in the shipping channel! Racing out of Annapolis Harbor has offered many new challenges.
It's not for wimps!
The first thing that I noticed with racing out of Annapolis was the congestion of boats, especially while preparing for the start of the race. I had not been accustomed to the "close calls" and total awareness that you need to have, whether it's at the start, going around marks, or just maneuvering during a race. When we're racing, usually I trim the jib. After this year's Annapolis Yacht Club (AYC) Spring Race to Oxford, I was fortunate to be offered a lot of time at the helm while delivering the boat back to Annapolis.
Racing is definitely a "tougher" sport than I thought before getting into it. It's much more physically demanding than people who aren't familiar with it may think. There is always something going on that will keep you on your toes, and, from a mental standpoint, constant changes to conditions and tactics will keep your mind moving non-stop. It's not for wimps!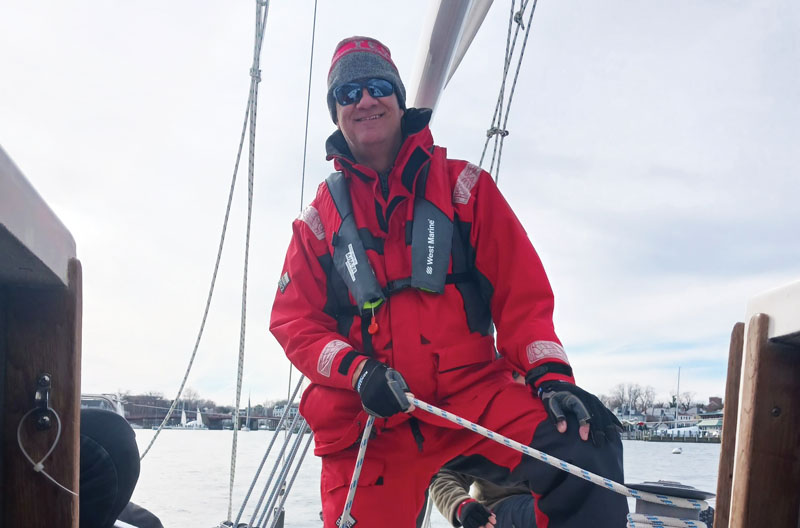 If someone wanted to start sailing, what would you tell them?
Don't be afraid to try. It helps to have a good base of knowledge to build on, so take formal training or have a mentor that can help get you up to speed. You'll find, as I did, that other sailors will be eager to help you get started. In addition to the friends I've made on Blinding Fury, my Eastport neighbor, Patrick Lavender, who is a sailor, allowed me to borrow his foul weather gear for frostbiting. I ended up purchasing it from him, and now I have some nice Musto gear!
What are your future sailing plans?
This season I am crewing regularly with Blinding Fury in Eastport Yacht Club's Friday night beer can races. We will sail in additional distance races and charity events this season, and I will frostbite again during the winter.
I continue to learn and improve every time I go out, and I use Google and YouTube to teach myself terminology and racing tactics, etc. Thanks to Eric Richardson and the entire Blinding Fury crew who have welcomed me and been tolerant and open minded about bringing in someone who had never raced before. They continue to help and support me learning "on the fly."