A Q&A with Chesapeake sailor Emily Manders, who explains that as an adult she got seriously into sailing, and she offers smart advice for others who'd like to Start Sailing Now!
A small boat introduction to sailing
When I was 12 years old my family started spending summers in a cottage on Herring Bay, and my father bought a used small centerboard sailboat for us to go sailing. We would go out for a few hours on a weekend when the weather was fine and winds were moderate. When we came ashore we'd pull her up on the beach using a log as a roller.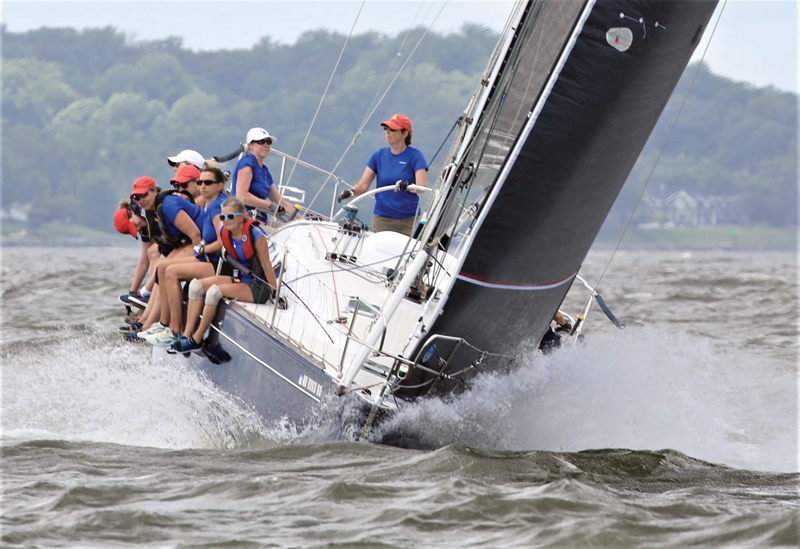 I had always thought sailing would be very peaceful, and that was true in those outings with my dad. We would pack snacks, drinks, and often a book and glide around Herring Bay, but other than a few Herring Bay outings with friends on Sailfish or Hobie Cats (which were very exciting in storms and a trapeze), I didn't sail again until I started racing in Herring Bay with Herrington Harbour Sailing Association (HHSA). This was when I realized that sailing could be exhilarating.
For about five years I participated in all the HHSA races and many one-design and CBYRA races on MaryBeth, a Catalina 27. This was how I really learned to sail. Over the years I raced with Pursuit, Coyote, Labyrinth, Widow Maker, Delirium, and of course rarely missed a race with my husband Keith Mayes on our Beneteau 36.7 Jubilee. We keep Jubilee at Pirate's Cove Marina, but for many years prior she was at Herrington Harbour. We've raced her with amazing crew for over 15 years.
Beyond sailing the Bay, I've raced from Annapolis to Bermuda, Newport to Bermuda, and in the Beneteau 36.7 North Americans on the Great Lakes in Buffalo, NY, and Detroit, MI. As far as cruising, I've sailed in the BVI, Bahamas, Cape Cod, and Maine, and I hope to do more cruising on the Bay and elsewhere.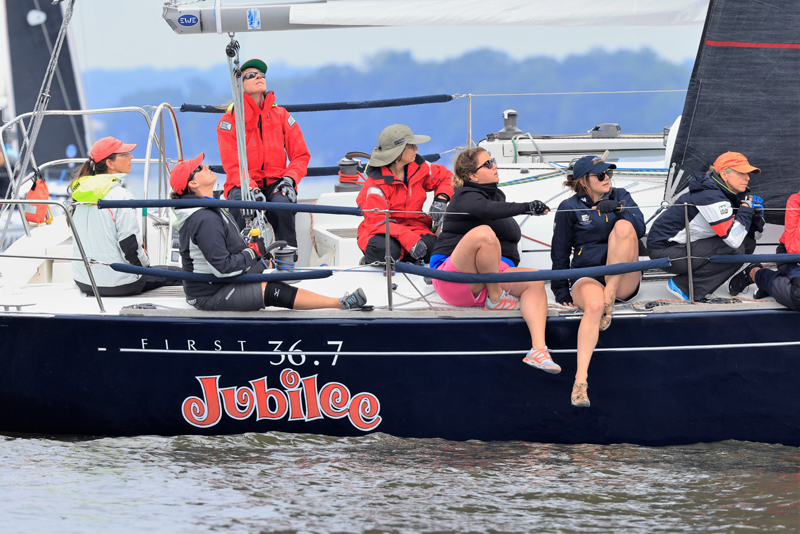 On the value of women's regattas
I'm a big fan of women's regattas and started participating in them at the Southern Maryland Sailing Association and with HHSA, where I have helped build and support the Women Underway Program. Sometimes it may be harder to be taken seriously as a female on the boat; however, I was given a lot of respect and responsibility on my first race boat, MaryBeth. Women's regattas and cruises help give women opportunities to gain experience and build confidence handling any role on a boat.
If someone were interested in learning to sail, what would you tell them?
Find a boat to race on. Attending the SpinSheet Crew Party (Sunday, April 30) or contacting a racing club are two good ways to find such a boat. Racing relies on the optimization of a boat's abilities and the need to keep your eyes both inside and outside the boat. Find a boat, show up to the dock early, bring drinks or snacks, learn to rig the boat, ask questions, follow the skipper's instructions, and have a positive attitude.
Powerboating with the grandkids
Our next chapter will find us setting a course for family fun on a powerboat. We are selling Jubilee, which will be a huge change. However, the grandkids at ages two and four are still too young to race, so we have big plans for tubing, teaching grandkids to waterski (Keith and I were both ace waterskiers back in the day, especially Keith), and exploring destinations around the Bay.