What kind of cold weather sailing gear will I need?
Cold weather sailing gear? Often when new sailors dream of sailing a boat, they imagine summer sun and warm breezes. While it is true that more sailing is done during the summer months, sailing happens all year round here on the Chesapeake Bay. Most Chesapeake region sailors who are on the water through the winter months are racing sailboats. Such races are called frostbite regattas, but some cruising sailors are on the water too.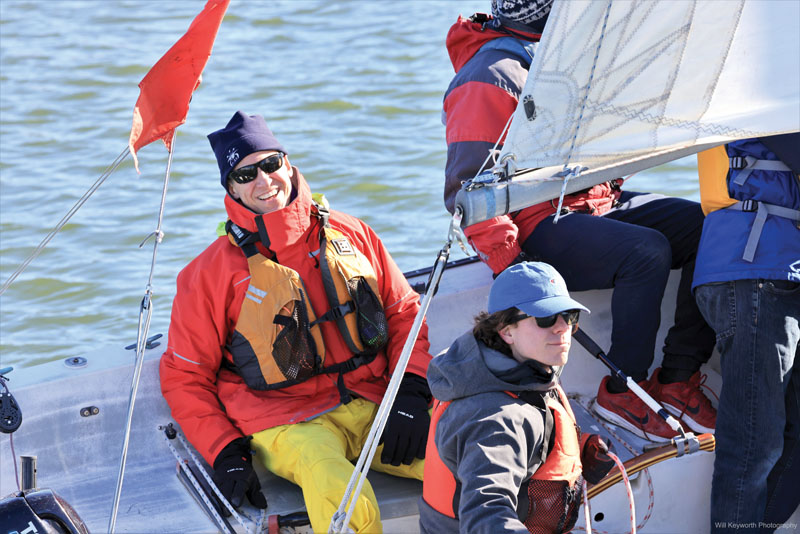 Many sailors are also active in other winter sports, so they already own the right kind of winter-weather outdoor wear. Layers are important, beginning with a base layer that wicks moisture (one can work up a sweat frostbiting!), a mid-layer for warmth, and a top layer to block the wind and any spray from waves. A warm hat is key. Long underwear on the legs is common, as are wind- and water-resistant pants.
For the feet, a thermal sock can work wonders, especially when paired with a boot that is lightweight and has good traction. Hand and foot warmers go a long way if you're out for an extended period.
To cover hands, look for a glove that will give you as much finger mobility as possible and some "friction" on the underside so that you can get a good grip on ropes (sailors usually call them lines) and other equipment. Wind and water resistance are important for hands too. You may want a base layer glove and a top layer glove.
When it's really breezy, a buff (neck warmer) provides warmth and may be pulled up over the mouth and nose. Sunglasses not only protect the eyes from the sun's harmful rays, but they also keep the eyeballs warm when the breeze is in your face.
Wet suits or dry suits are sometimes appropriate, depending on the type of sailing you're doing (especially for small boats), air temperature, and water temperature. Generally, this type of sailing is for more advanced sailors, not a beginner.
Finally, a lifejacket is essential when sailing on cold water. Even if you're a good swimmer, the combination of cold water and all those clothes would make swimming almost impossible. Plus, a lifejacket adds another layer of warmth!
Read more about how to start sailing.